Paris may boast the world's busiest business aviation airport at Le Bourget, and Geneva and Nice can count themselves among Europe's most popular destinations for well-heeled flyers. However, no city has as many airports competing to be its preferred private aviation gateway as London.
Discounting its major airline hubs Heathrow and Gatwick, the UK capital offers operators and their passengers no fewer than six points of entry – more if you include airports within a reasonably easy reach of London, such as Oxford and Southend, and airfields that cater for the smallest jets.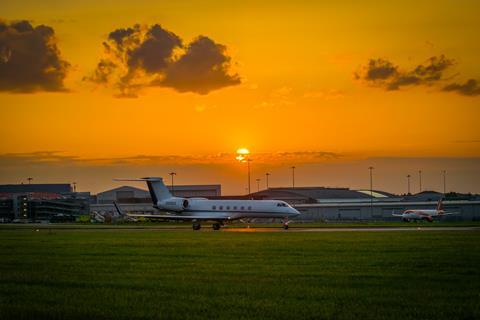 Each has its own unique selling points, whether pricing, operating hours, privacy, range of services, upmarket terminals or ease of getting to central London. What is more, at several of the airports there are rival fixed base operations, all with their own value propositions.
There have been major developments in the past year or so, with major infrastructure investments underway at Biggin Hill and Farnborough, and changes in the fixed-base operator (FBO) landscape at Biggin Hill and Stansted.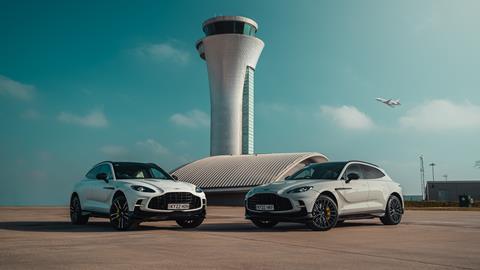 Three of London's airports are within the M25 orbital motorway: the former wartime airbase of Biggin Hill in the southeast, now a thriving business aviation hub; London City, best known for its regional airline connections to European financial centres; and Northolt, a shared military facility.
Just beyond the capital to the southwest, is Farnborough, like Biggin Hill a dedicated business aviation airport. North of the metropolis are two airports famous for low-cost airline flights, but that also secure a substantial share of London's business aviation traffic: Luton and Stansted.
Of all the airports circling London, Farnborough is certainly the most striking. Under two decades of ownership by Swiss services group TAG, the one-time military airport underwent a transformation, constructing architecturally distinct wave-roof hangars and a luxury terminal.
Like Biggin Hill, the airport has a storied history. Samuel Cody made the UK's first powered flight from there in 1908 and for much of the last century it housed the country's aeronautical research facilities. The biennial Farnborough air show takes place on the opposite side of the runway.
In 2008, TAG opened a luxury 169-bedroom hotel on the airport's perimeter, positioning The Aviator at aircrews and "elite travellers moving between London and the world's leading destinations". In 2019, Australian infrastructure fund Macquarie acquired the entire airport, including the hotel.
Macquarie has continued the investment, with building work underway on a new £55 million ($67 million) 16,000sq m (175,000sq ft) hangar, dubbed Domus III. It opens in January 2024, and will increase hangar space by 70%.
The airport saw a strong rebound in traffic in 2022 with 33,000 movements, up 2% on the 32,000 in 2019, giving it a claimed 31% share of the London market. However, chief executive Simon Geere admits demand softened in the second half as the economy slowed following a post-Covid surge.
Farnborough's business model differs from many of the other London airports in that owns the airport itself and almost all the infrastructure, and provides the majority of its fixed-base services including hangar space, passenger processing, and aircraft handling.
However, in recent years it has been attracting more third-party tenants. Around 70 companies – including fractional operator NetJets, its biggest customer – have offices at the airport, creating what the airport calls a "growing aerospace and aviation industry cluster".
Dassault Aviation Business Services, the French manufacturer's maintenance arm, has a 6,000sq m hangar on the airport estate, while simulation-training company FlightSafety opened its centre next to the terminal in 2006.
In 2020, Gulfstream relocated its main European maintenance, repair and overhaul (MRO) hub from Luton, building a new 21,000sq m hangar, not far from the terminal. Geere believes there are "two obvious sites" at the airport for a second MRO facility, although he gives no clues on potential candidates.
The airport wants "subtly to reposition our brand" as an "aspirational product", according to Geere, by increasing awareness among private aviation users themselves. "You'll find us talking less about business aviation and more about premium air travel connectivity," he says.
This is partly why Farnborough has been embarking on a series of upmarket brand partnerships, including with Aston Martin. One of the luxury carmaker's DBX707s chauffeurs passengers to and from their aircraft.
Geere says this fits perfectly with Farnborough's position in the market, with many of its regular users wealthy individuals based in London or who regularly fly there for business or pleasure. "We've always said we are a premium product at a premium price," he says.
Luton is Farnborough's main rival as the most popular London airport for business aviation. While the main terminal serves largely low-cost and leisure airlines, there are two large standalone FBOs, operated by Signature Aviation and Harrods Aviation.
Luton is Signature's flagship FBO on this side of the Atlantic – 28 of the company's 230 or so locations are outside North America, almost all of them in Europe. Signature built the impressive two-storey VIP terminal in 2016 after acquiring incumbent operator Landmark.
Despite its reputation as a cheap and cheerful airport for holidaymakers, Luton is the perfect choice for private travelers, argues John-Angus Smith, Signature's managing director EMEA. "It's location is why it's so popular. There is great access to London down the M1 [motorway]," he says.
He also disputes suggestions that business jet operators sometimes to battle for take-off and landing positions with EasyJet and Wizz Air airliners. "We are a significant tenant, and we work with the airport on slots. They are good at giving us solutions. It's never a problem," he says.
Signature's competitor at Luton is Harrods Aviation, which has also been expanding its footprint at another commercial airport, Stansted, where it was one of four FBOs until it bought its neighbour Fayair earlier this year.
Anglo-Egyptian entrepreneur Mohamed Al-Fayed set up Fayair shortly after selling Harrods Aviation – along with its sister company, the famous Knightsbridge department store – to its current owner, the Qatari sovereign wealth fund, in 2010.
Harrods' acquisition of Fayair will allow it effectively to double its footprint at Stansted, with an additional 3,600sq m hangar and 8,500sq m of ramp parking. It also gives the business – which uses a refurbished 1960s former airline terminal – a 21st century passenger facility.
In the immediate future, Harrods, which also has a large maintenance hangar at Stansted, will maintain both brands "to avoid confusion with customers", but longer-term will rebrand Fayair as Harrods Aviation and operate from both locations, says sales and marketing director Will Holroyd.
While Harrods Aviation caters for a number of large aircraft private charters, such as sports teams and touring bands, Holroyd says the Fayair terminal is "purpose-built for the small to midsize sector, and perfect that that sort of operation".
He describes the neighbouring FBOs as "chalk and cheese". The Harrods Aviation facility is "beautiful inside but not designed for purpose. Everything has its moment, and the time is now right to repurpose this building. We will continue to use both for different sorts of flights," he says.
Holroyd says 2022 was "remarkably successful" for Harrods Aviation. "We saw a continued uptick, with a big increase in long-range, large-cabin aircraft." While 2023 has begun positively, he says it will be a year of "wait and see" what the impact of a wider global economic slowdown might be.
The acquisition has given Harrods Aviation "the appetite to look further afield, potentially at other locations", says Holroyd. "We have a globally recognised brand. However that comes with a great responsibility and anything we do must enhance rather than dilute that brand."
Biggin Hill has arguably been the busiest business aviation airport in London over the past 12 months in terms of investment, opening a 56-bedroom hotel called The Landing in early 2023, and doubling the size of a maintenance hangar it leases to Pilatus distributor Oriens Aviation.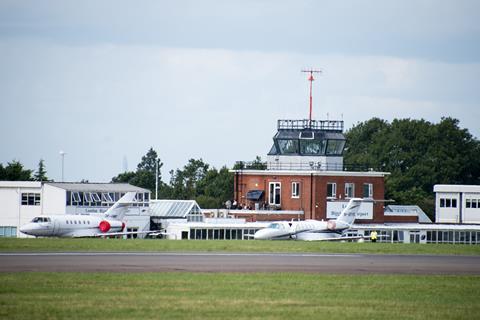 The biggest infrastructure development, however, is Bombardier's new maintenance facility, the largest of its kind in Europe, which can cater for 14 Global jets. The Canadian manufacturer moved into the new-build site, which is twice the size of its previous hangar, last summer.
Bombardier's former premises – in Hangar 510 – is now occupied by Jet MS, an aircraft completions company owned by diversified Irish aviation group Avia Solutions, which bought the hangar in 2021. It shares the building with Jetex, which replaced Signature as the airport's third-party FBO last year.
It is the first UK site for the Dubai-based operator, which has FBOs on five continents, from Santiago to Tokyo Narita, with a luxury passenger facility, originally developed by Qatari operator Rizon Jet, designed to appeal to Middle Eastern and other ultra-wealthy travellers.
Castle Air, which operates Biggin Hill's helicopter shuttle service to central London, has also expanded its nearby hangar, enabling the Leonardo specialist to carry out maintenance and aircraft storage in separate areas.
While the initiatives helped Biggin Hill to increase traffic in 2022 by 56% over the pre-pandemic year of 2019 – including a record July that saw a record 3,400 landings and take-offs – the investment has been "about more than movements", according to commercial director Robert Walters.
"It's also about all the value added we are providing on the ground," he says. "All our investment means more jobs, as our tenants expand and recruit. We are on the journey to create 2,300 additional jobs by 2030," he says.
To help achieve that, Biggin Hill is working with a training provider to establish a technical college on the site – a project mooted several years ago, but on ice since the pandemic. Walters hopes to have the first cohort of apprentices and other students in place by September next year.
There is a wider agenda too. Business aviation airports – and private flying generally – have been in the firing line from environmental campaigners who portray the industry as largely unnecessary and hugely damaging to the environment.
However, Walters says one of his obsessions is trying to convince those living near Biggin Hill of the enormous contribution his business makes to the local community in terms of creating skilled long-term career opportunities in the likes of aircraft maintenance.
Farnborough too has been making the same plea, issuing a study with its local authority Rushmoor Borough Council that it says "shows that over the last decade the airport has had a significant impact on the prosperity" of the community.
"We are proud of our long-standing history of contributing to the economic wellbeing of the region," says Geere. "Creating jobs is core to what we do. Through continued investment, we plan to support the creation of many more."