UK-headquartered start-up Samad Aerospace has unveiled its latest hybrid-electric aircraft development – a two-person vertical take-off and landing (VTOL) personal jet for the luxury market that is targeted for service entry in 2023.
Called the Q-Starling, the all-composite aircraft will be powered by two modified turboshaft engines that double as both turbogenerators and turbojets. These are currently sourced from Czech Republic-based PBS.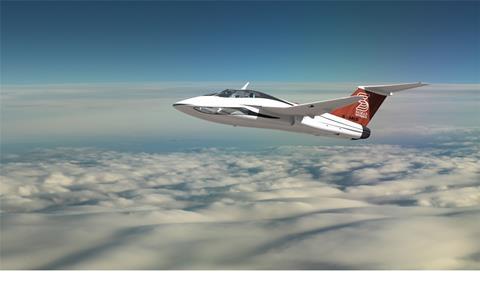 Lift for take-offs and landings is provided by a single electric-powered ducted fan in the centre of the fuselage, while stability and control come from four smaller fans located in the wing-tips and horizontal stabilisers. The turbogenerators providing the electrical power become regular turbojets in conventional flight.
Samad Aerospace is already developing its larger seven-person e-Starling aircraft and the new model is, in part, a spin-off from the half-scale S5 demonstrator that has been built to support that programme.
Although the fuselage shape and overall configuration of the two aircraft differ, the company believes that lessons learned from the Q-Starling, notably around the central lift-fan and the control system, will smooth the certification path for the follow-on programme.
Founder and chief executive Seyed Mosheni says the Q-Starling is aimed at ultra-high-net-worth individuals and believes the company can ultimately deliver 500 of the $2 million aircraft each year.
"If somebody is happy to purchase a super-yacht they will certainly be willing to spend $2 million on [an aircraft] which they can also use for commuting," he says.
"It is safer, more comfortable and goes further than a helicopter."
Test flights of the S5 scaled-prototype should begin shortly, he says. This will in the undisclosed Asian country where it has been manufactured by one of Samad's industrial partners, although it will subsequently be transferred to the UK for further test flights.
A prototype of the Q-Starling will begin certification flights in 2022, he says, leaving a one-year window before scheduled service entry.
In addition, a more affordable version will follow, which will dispense with the luxury finish of the Q-Starling.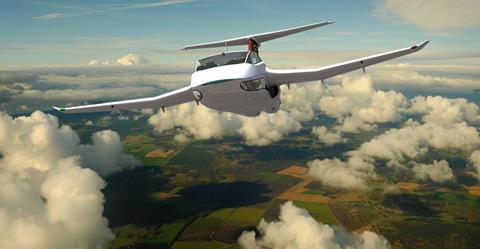 So far, Samad has raised around £10 million ($13 million) of a targeted £15 million during its series A funding round. Mosheni estimates that another £30 million will be required in order to complete the Q-Starling and begin serial production.
Despite the company's UK headquarters, there is no guarantee that the aircraft will ever be built in the country. Initial certification is likely to be handled by the European Union Aviation Safety Agency, says Mosheni, implying a production site on the continent.
"The UK is good for technology but it is not really the best place for vehicle development," he says citing the low levels of possible government backing for any programme. "But we have not 100% decided whether we want to stay in the UK or go elsewhere."
In addition, Samad hopes to create a network of "strategic partnerships" around the globe that will licence-build aircraft for their region, as well as providing a percentage of the Q-Starling's global supply chain.
Samad believes the Q-Starling will be able to be flown by anyone with a private pilot's licence, with as little as 10h of further training required to master the VTOL system. An additional level of safety is provided by a ballistic parachute.
With the addition of the Q-Starling to its line-up, Samad now has two active programmes on its books, plus it recently unveiled plans to construct a network of "e-VTOL innovation villages" across the globe.
Despite the scale of the undertaking, Mosheni bats back suggestions that the start-up is overloading itself and points to its partnership model. "We are not taking everything on our shoulders," he says.
He also says that Samad is eyeing the spin-off potential of the early scaled-prototypes developed for the e-Starling programme as unmanned cargo, medical evacuation or surveillance platforms.
"These could then be used to generate revenue before we bring the passenger aircraft to market," he says.