Aero-Dienst is marking its sixty-fifth birthday at EBACE, making it one of Europe's oldest business aviation entities. It is not the Nuremberg company's only significant milestone in 2023. German automobile club ADAC acquired Aero-Dienst 25 years ago, as its fixed-wing medevac arm. From its base at Nuremberg airport, the firm provides on-demand airlift services to ADAC members, using a pair of specially configured Fairchild Dornier 328Jets and two Bombardier Learjet 60XRs.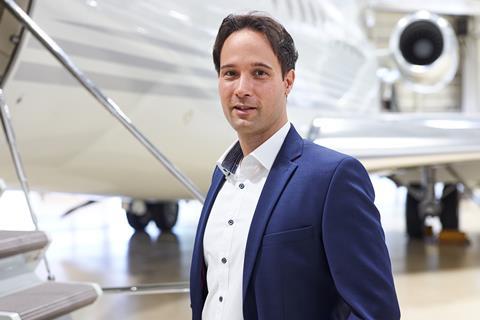 However, Aero-Dienst's capabilities go beyond air ambulances. Its 8,000sq m facility in the Bavarian city contains four maintenance hangars – it has OEM authorised approvals for Dassault Falcons and Bombardier jets. Hawkers and Dorniers are also maintained at Aero-Dienst, and it is a designated engine repair facility for all four major manufacturers of business aircraft engines: GE Aerospace, Honeywell, Pratt & Whitney Canada and Rolls-Royce.
In 2021, it won approval to operate a full-service maintenance hangar at Oberpfaffenhofen near Munich – one of Germany's main aerospace hubs – adding to line stations in Vienna and Klagenfurt in Austria. In addition, it procures, sells and manages aircraft on behalf of clients, with a fleet comprising a Dassault Falcon 7X, a Bombardier Challenger 300, and a Learjet 45XR. The target is to increase this managed fleet to around 12 aircraft, says new chief executive André Ebach.
According to Ebach, who previously worked for Lufthansa Technik and Swiss group RUAG, Aero-Dienst's one-stop-shop philosophy makes sense as third party owners can have their aircraft completely looked after under one roof. Meanwhile, having its own maintenance set-up means its air ambulance fleet can be on standby 365 days a year and is never at the mercy of another company's hangar capacity or priorities. A component shop – which opened in 2018 – completes the in-house offering, says Ebach.
"There are many reasons why a broad portfolio is important," maintains Ebach. "All work can be coordinated, which minimises administration for the customer. We can accompany the customer in many situations during a life cycle of an aircraft, starting from acquisition, pre-purchase inspection, management and operation, maintenance and finally aircraft sales. The fact that we do aircraft transactions also gives us all-round visibility of the market."
Aero-Dienst's latest European Aviation Safety Agency Part 145 venture in Oberpfaffenhofen is part of an aerospace cluster at the airport that includes German aerospace centre DLR, Dornier Seawings Lilium, RUAG and Safran. Both a large talent pool and a significant business aviation community in Germany's third city, Munich, are on the doorstep. "Success stands or falls with the right employees and closeness to our customers and the location combines both," says Ebach.
Given its parentage, flying the sick and injured remains one of Aero-Dienst's major business units beside offering the entire range of general aviation services related to business jets and ambulance aircraft– neighbour FAI is another medevac operator, making the 24-hour Nuremberg airport Germany's air ambulance hub. Aero-Dienst's two types offer different capabilities. The 1,620nm (3,000km)-range Do 328Jet has room for six stretchers and four seated patients in its 10.3m-long cabin. The Learjet's interior is just over half that length with space for just two stretchers, but is faster and can fly 2,000nm without a stop.
The company employs around 330, with just over half of them maintenance technicians and the remainder pilots, medical, sales, operational and administrative staff. As with most MRO companies in the Covid recovery era, Aero-Dienst has challenges finding skilled staff – "We are hiring," says Ebach – as well as all sorts of replacement parts, including those as seemingly mundane as windshields and tyres.
However, Ebach says the outlook for 2023 and beyond is bright, driven largely by an expanding MRO business. Despite its ownership by Europe's largest automobile rescue association – with its 21 million members and separate fleet of 55 medically equipped helicopters – Ebach insists Aero-Dienst's ability to tailor its services for its private customers is its strength. "We are flexible," he says. "And that is what our customers like."