For business aviation to recover rapidly from the coronavirus crisis, restoring passenger faith in travelling for several hours in a confined space – no matter how exclusive and comfortable – will be crucial.
This is where cabin air-purification systems such as the one produced by Aviation Clean Air (ACA) could prove vital.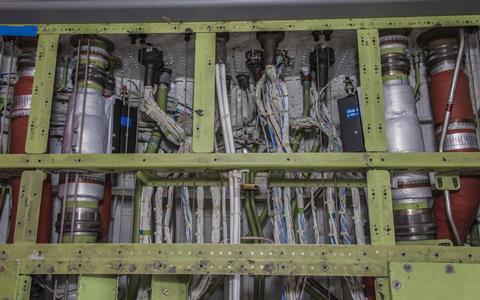 Savannah-based ACA has been producing its unit since 2014 and, although it is not currently proven to be effective against Covid-19, it "actively kills" viral, bacterial, and fungal pathogens including those that cause the common cold, strains of flu, MRSA, clostridium difficile and E.coli, claims the manufacturer.
"Hundreds" of ACA devices have been installed in Airbus, Boeing, Bombardier, Dassault Falcon and Gulfstream business jets over the past six years, but demand has soared with the Covid-19 pandemic and the company is "ramping up" production as a result.
According to ACA, the fact that the device is not a static air filter is crucial. An "active" air-filtration system mounted on the existing environmental control system supply duct creates "positive and negative ions from the hydrogen and oxygen molecules in the water vapor in the air". These ions cluster around dangerous micro particles, inactivating the pathogens.
Although tests have not yet been performed on the latest coronavirus, ACA suggests that if Covid-19 is similar to other flu-like viruses, "when exposed to bipolar ionization, it is logical and reasonable to expect similar kill rate results".
Duncan Aviation is among the maintenance companies offering the system as a supplemental type certificate retrofit. The Lincoln, Nebraska-based firm has just fitted it on a Gulfstream G550, but plans to make it available to operators of Bombardier Global jets as well as Challenger 600 and 300 families. The work takes two weeks and can be done as part of a scheduled maintenance event, says Duncan.
"Demand is very high right now, as you can imagine, so we are doing our best to develop certifications," says Duncan's senior avionics sales representative Steve Elofson.
"The science behind the ACA ionization process can seem complex as it happens on a molecular level," he adds. "In layman's terms, pathogens and odours are often airborne and eventually land on surfaces within an aircraft interior. The ACA component, in a process involving cold plasma, causes a chemical reaction that changes the positive and negative ions, severing hydrogen bonds on the cell's surface. Without these bonds, the pathogen will not be able to mutate or reproduce and will quickly die."