December's Middle East Business Aviation Association show in Dubai is the latest event to fall victim to the coronavirus crisis. However, unlike most other air shows which had been due to take place since the pandemic began in March this year, its organisers have rescheduled the biennial gathering for 22-24 February 2021 rather than cancelling outright.
MEBAA's announcement follows the axing this month of air shows in Bahrain and Zhuhai, both scheduled for November, although the latter is still awaiting formal government confirmation. Major events already cancelled entirely for 2020 include July's Farnborough air show, the EBACE and NBAA conventions in Geneva and Orlando, and the Aircraft Interiors Expo, which had been due to begin in Hamburg in late March. Countless smaller conventions, conferences and local air shows have also not taken place.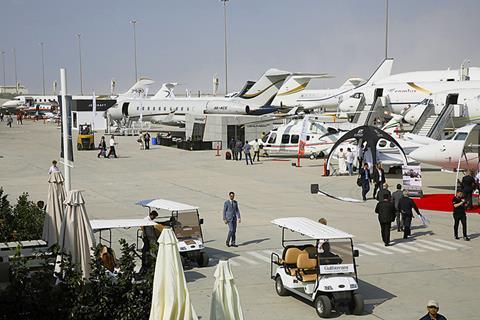 MEBAA executive chairman Ali Alnaqbi says the decision to move the event, which attracts a mostly Middle Eastern audience but exhibitors from around the world, was taken "in the best interests of the health and safety of all exhibitors, visitors, contractors and staff".
He adds: "We understand this news will be extremely disappointing to the business aviation community. However, we believe that in postponing the show to February 2021, we will be better positioned to deliver a quality event for everyone."
Air shows have been hit by a combination of local regulations restricting large gatherings, a lack of flights, government quarantine rules for international travelers, and concerns among businesses about sending their staff on foreign trips. The last big air show to take place was Singapore in February, when worries about the virus spreading from China into the wider region prompted many international exhibitors to pull out at short notice.
With a decision likely to be made within three months on whether June's Paris air show can take place, there is a large question mark over when – or whether – large scale industry events can restart. Air shows and conventions are a vital part of the aerospace industry's calendar, a focus for marketing spend and unveiling new aircraft, and often a barometer of confidence.
While air show organisers face a considerable financial loss with a cancelled event, they are also wary of not taking decisions early enough. Farnborough International, which is behind the biennial UK show, had to deal with dozens of disgruntled exhibitors who had paid large deposits which Farnborough offered to hold for the 2022 show rather than refunding.
However, at least one show has bucked the trend. HeliRussia 2020 took place in Moscow from 15-17 September after being postponed from May.