Polish start-up Metal Master is preparing its production-conforming Flaris LAR 1 flight-test aircraft for a maiden sortie in early April, as it set its sights on securing Polish certification for the five-seat, high-performance personal jet in the fourth quarter.
The company's initial prototype has logged 60h since the flight-test campaign began in April 2019, with a number of the sorties "lasting more 2h", according to Metal Master founder Rafal Ladzinski.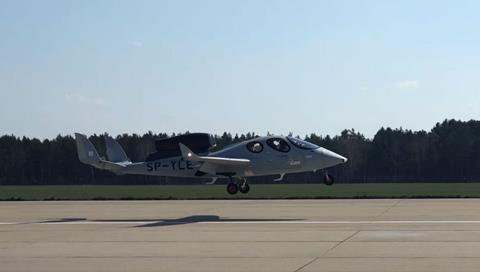 He describes the LAR 1 flight trials as "very productive", with the longer sorties "providing an opportunity to really put the aircraft through its paces".
Evaluations have focussed mainly on the systems of the Williams International FJ33-5A-powered type, including its retractable landing gear, hydraulics, Garmin G600TXi flightdeck, autopilot and autothrottle, says Ladzinski.
The carbonfibre LAR 1 has also hit some notable performance milestones, including reaching an altitude of 25,000ft in under 3min 30sec, and recording a stall speed of 58kt (107km/h), which, says Ladzinski, "is equivalent to a four-seat piston-single such as a Cessna 182 Skylane".
Metal Master is working with the Polish Civil Aviation Authority to obtain S-1 experimental certification after around 200h of flight testing. "We expect to secure this at the end of the year and begin delivering the first aircraft in 2021," says Ladzinski. The company will then pursue European Aviation Safety Agency validation for the LAR 1 under CS-23 regulations, although there is no timeframe for this approval.
Orders for around 50 aircraft have been secured so far, with owner-flyers making up the bulk of the customers. The LAR 1 is also attracting attention from air taxi companies and specialist operators for use as a surveillance and patrol platform. "On a full tank of fuel, the aircraft has a flight duration of over 8h," says Ladzinski.
"The LAR 1 will provide a revolution in personal air travel," he claims, pointing to the €1.8 million ($2 million) model's "list of impressive features".
These include low direct operating costs – including fuel, maintenance and insurance – of $450/h; a projected maximum range of 1,620nm (3,000km); a cruise speed of 450kt (832km/h); maximum take-off weight of 1,500kg (3,300lb); and an ability to take off from and land on grass airstrips and short runways of less than 250m (820ft).