Fractional aircraft ownership company NetJets has ordered four of Bombardier's ultra-long-range, newly rebooted Global 8000 business jets in a deal with a list-price value of $312 million.
Ohio-headquartered NetJets has also agreed to convert orders for eight other Bombardier business jets into orders for the Global 8000, which is a derivative of the company's in-production Global 7500.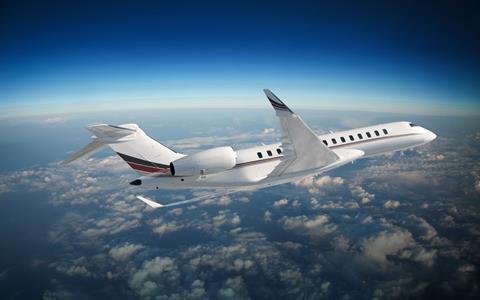 The agreement stands to make NetJets, a longtime Bombardier customer, the first fleet operator of the 8,000nm (14,816km)-range Global 8000. Another buyer – Bombardier has not disclosed which one – is set to be the Global 8000's launch customer.
Bombardier had launched development of the Global 8000 in 2010 alongside a sister ship then called the Global 7000. But the 8000 programme languished for more than a decade, and Bombardier subsequently rebranded the 7000 as the 7500, which has 7,700nm of range.
But at the EBACE business aviation show in May, Bombardier revealed the 8000's certification programme was underway. It has pegged service entry in 2025.
Bombardier intends eventually to stop producing 7500s, replacing that product with the 8000, which has a list price of $78 million. The Canadian manufacturer will also offer customers a service bulletin allow for 7500s to be converted to the 8000 standard, it has said.
The types are powered by twin GE Aerospace 18,920lb (84.2kN)-thrust Passport turbofans.
Bombardier says the 7500-to-8000 conversion package will enable NetJets eventually to operate 24 Global 8000s.