Pilatus has upgraded the avionics suite in its PC-24 business jet, adding a host of safety improvements to aircraft rolling off its Stans production line this year.
Based on customer feedback from over 50,000h of operation since the PC-24 entered service in February 2018, the enhancements have been developed in collaboration with avionics supplier Honeywell. The majority of the features were incorporated from serial number 212, says Pilatus – an aircraft handed over in March, according to Cirium fleets data.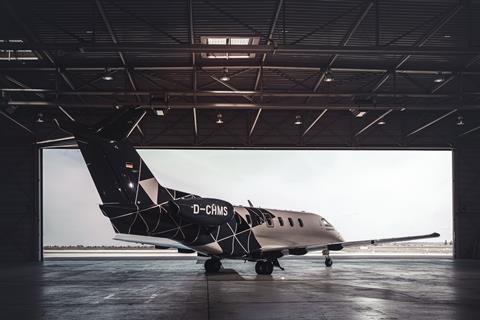 Flight controls now provide tactile feedback to the crew in both the roll and pitch axes to prevent unintended unusual attitudes, even when the autopilot is not engaged. It can, however, be manually overridden if required.
In addition, if the aircraft rolls through a bank angle of 51°, roll limit protection will automatically bring that back to 31°, while overspeed protection via the pitch servo adds another layer of safety.
The standard auto-throttle system gains a new automatic speed protection function – automatically engaging the auto-throttle to adjust power, ensuring that the aircraft always remains inside the entire speed envelope across all flight phases.
FADEC software governing the PC-24's Williams International FJ44-4A engines has also been tweaked to reduce power oscillations in cruise and descent.
A new automatic yaw trim – automatically activated when the yaw damper is engaged – will attempt to hold the aircraft to zero sideslip, or a reduced deviation if one engine is inoperative or a large thrust asymmetry exists.
Other new functions available include Honeywell's SmartRunway and SmartLanding advisory systems, plus additional weather detection and communications enhancements.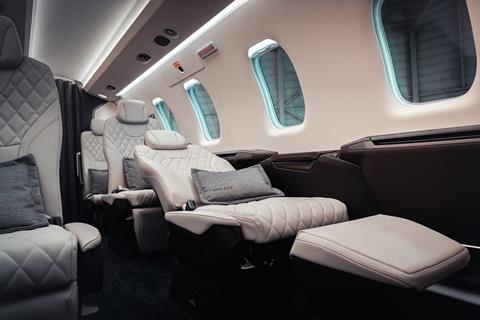 A touch-screen avionics controller – first introduced in the PC-12 NGX – replaces the multi-function controller as standard equipment.
In addition, the PC-24 was recently certificated for the installation of True Blue Power's lithium-ion batteries, which cut empty weight by 38kg (84lb) over the standard Ni-Cad cells in the superlight jet. These will be available as a line-fit option from MSN221 and upwards, and as a retrofit from MSN185 and upwards.
Improvements have also been made to the passenger cabin, with new lighter executive seats now available, alongside other configuration options.
Pilatus says the majority of the new features can be retrofitted onto all earlier examples of the superlight jet. The main exception is the new executive seats, which are line-fit on new jets only, while other features – chiefly a new radar, the touch-screen controller, and the li-ion batteries – are only available on certain blocks of aircraft.
This story has been updated with additional detail from Pilatus on the availability of upgrades.