Supply and labour shortages will likely force Textron Aviation to delay planned 2022 aircraft deliveries and leave it $300 million short on expected revenue.
"We have been ramping up production… through the course of the year, but we have been hit by a number of supply chain challenges that have resulted in a aircraft pushing out to the right," Textron chief executive Scott Donnelly said on 27 October.
He spoke during Textron's third-quarter earnings call. Textron Aviation, which owns Cessna and Beechcraft, turned a $139 million operating profit during the three months ended 30 September, up from a $98 million profit in the same period one year ago.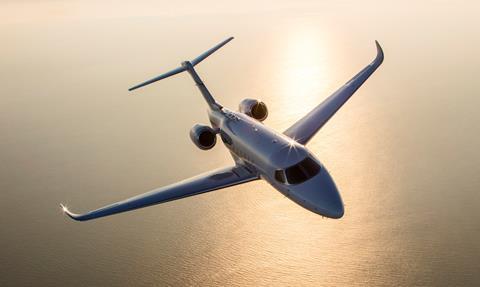 The division generated $1.2 billion in third-quarter revenue, down only 1% – or $14 million – from the same period one year ago. Textron attributes the slight decline to fewer Cessna Citation jet sales and a decline in pre-owned aircraft activity.
Textron Aviation delivered 39 jets in the third quarter, 10 fewer than in the same period of last year, and 33 commercial turboprops, two fewer than last year.
"We are clearly not going to get to the number of jets we have originally hoped," Donnelly adds. "Aviation is going to come in about $300 million below what we originally guided."
Donnelly says Textron aims to ramp deliveries in 2023.
Helicopter maker Bell, also a Textron subsidiary, earned an $85 million third-quarter profit, down from $105 million one year earlier.
Bell delivered six military and 49 commercial helicopters in the third quarter, compared to nine military and 33 commercial aircraft deliveries in the same period last year.