Rolls-Royce and Alder Fuels have at NBAA signed a memorandum of understanding covering the flight-testing of new sustainable aviation fuel (SAF) being developed by the US clean-tech firm.
Based on Alder's proprietary technology – which turns waste biomass from forestry and agriculture into what it calls "Greencrude" – the SAF is being readied for global roll-out as a drop-in replacement to regular jet fuel and should be commercially available from 2024.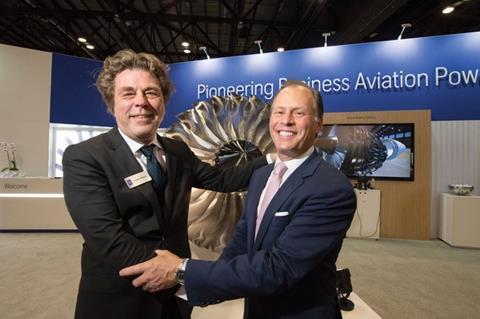 Flight tests, to take place in the first quarter of 2023, will see the SAF used to run an undisclosed Pearl business jet engine variant.
The Pearl 15 powers the Bombardier Global 5500 and 6500, while the Pearl 700 equips the Gulfstream G700.
Bryan Sherbacow, chief executive of Alder Fuels, foresees a "pretty robust campaign of testing and demonstration" culminating in two to three test flights.
These will be used to "evaluate the energy efficiency, emissions criteria, and low-carbon credentials" of the fuel, says Rolls-Royce. In addition, they will provide data to enable the creation of standards for SAF generally.
Frank Moesta, senior vice-president strategy & future programmes – business aviation at Rolls-Royce, says the widespread deployment of SAF is "essential" to decarbonise medium- and long-haul air travel. "It is our responsibility to push it into the industry and make it widely available," he says.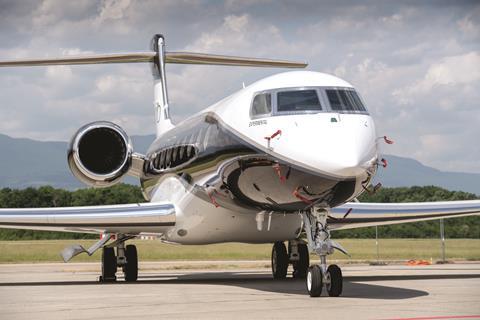 Sherbacow describes the Greencrude-derived fuel as "SAF 2.0" to distinguish it from the current generation of HEFE biofuels produced from waste fats.
"We call it that because for the first time we can make commercially competitive, 100% drop-in SAF," he says. Additionally there is insufficient feedstock to scale up HEFE production to meet future demand, he notes.
A significant limiting factor to SAF take-up currently is the cost versus Jet A – but Sherbacow argues that once production of the new fuel is scaled up it will be "competitive – at parity – with petroleum jet fuel".
"It's really critical that we focus on scale now. We have demonstrated that we can produce low-carbon jet fuel and demonstrated as an industry that there is as much demand as there is for regular jet fuel," he says.

Dominic Perry is deputy editor of Flight International but also contributes extensively to flightglobal.com. Although specialising in the coverage of the helicopter industry, he has written on most topics in aerospace – be they commercial, defence or business aviation. In addition, there has been an increasing focus on the decarbonisation of the industry and zero-emission flight initiatives.
View full Profile