Engine maker Rolls-Royce is contemplating a move into to the super-midsize business jet market, which it is likely to address with a new powerplant family.
R-R has secured its position at the top end of business aviation with its 15,000-18,250lb-thrust Pearl engines – launched in 2018 on the Bombardier Global 5500 and 6500 and now on two other aircraft types – but is eyeing additional growth in the sector.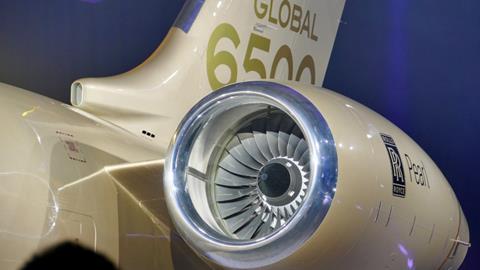 Chris Cholerton, president of civil aerospace, sees an opportunity in the super-midsize segment, which is one that "hasn't been disrupted for quite a while", he said during a pre-Farnborough air show briefing on 6 July.
Despite their smaller size, engines in the 10,000-11,000lb thrust (44-48kN) class still offer "quite high value" to R-R, he says, while anything smaller is "commoditised and not really of interest to us".
"So that's the area where we could explore what could make sense – is that attractive to us and what happens next in super-midsize?"
However, it is likely to address the super-midsize space with a new engine rather than another Pearl variant.
While it would depend on the precise thrust requirement, Cholerton says that below a certain size, a different engine architecture to that of the Pearl would be required, particularly in relation to the compressor.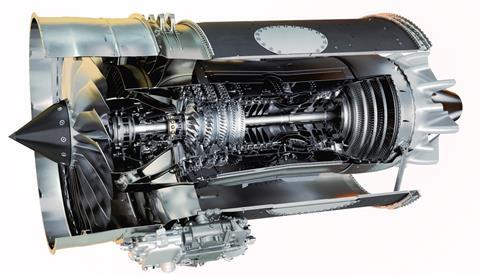 Pearl engines marry the architecture from the older BR700 powerplant with a new core and other technologies derived from the Advance2 demonstrator programme.
Although he declines to provide details, Cholterton says "we do have technology demonstration that would be relevant at that size", adding that "we have a range of technologies relevant to a range of sizes".
Aircraft typically considered as super-midsize include the Bombardier Challenger 350 and Dassault Aviation Falcon 2000LXS, powered respectively by the 7,000lb-thrust-class Honeywell HTF7350 and Pratt & Whitney Canada PW308C.
However, Bombardier does have a pressing need to revamp the large-category Challenger 650, to head off looming competition from the in-development Gulfstream G400. The Canadian jet is powered by twin 9,220lb-thrust-rated GE Aviation CF34-3Bs.

Dominic Perry is deputy editor of Flight International but also contributes extensively to flightglobal.com. Although specialising in the coverage of the helicopter industry, he has written on most topics in aerospace – be they commercial, defence or business aviation. In addition, there has been an increasing focus on the decarbonisation of the industry and zero-emission flight initiatives.
View full Profile