Rolls-Royce is gearing up for the first run of a complete Pearl 10X engine as it pushes ahead with development of the powerplant that will equip Dassault's Falcon 10X.
Earlier this year the propulsion specialist powered up the first ground-test article, but is working towards achieving the next milestone – running the engine with its nacelle, mounting system and Engine Build-up Unit equipment installed – "in the coming months", says Philipp Zeller, head of the Pearl 10X programme.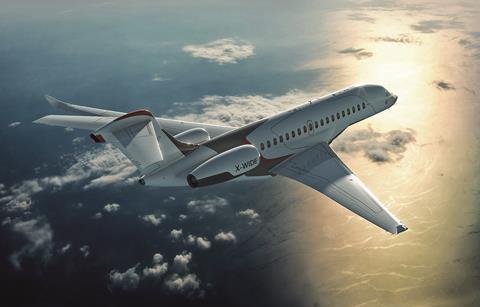 In total, Rolls-Royce will use eight engines for the Pearl 10X test programme: four for ground-based evaluations and another four for flight testing.
Those flight tests will be conducted next year using the manufacturer's Boeing 747-200 flying testbed (N787RR) in Tucson, Arizona. But rather than mounting the Pearl 10X to the fuselage, Rolls-Royce will take advantage of the Jumbo's ability to transport a spare engine on a dedicated station on the inboard port wing.
"We have found a way to install it that avoids interference with the RB211s that are powering the aircraft," says Zeller.
He is hopeful that the flight-test programme can be wrapped up in around six to nine months as the Pearl 10X benefits from the "pedigree" of the already certificated Pearl 700 for the Gulfstream G700.
Although the Pearl 10X is the more powerful of the two variants, the powerplants share a common architecture and dimensions, including a 132cm (52in)-diameter fan.
However, there are internal differences, including the application of 3D-printed tiles in the Pearl 10X's combustion chamber, allowing it to better manage the increased temperatures driven by higher-thrust operations.
Neither Dassault nor Rolls-Royce have detailed the precise thrust class for the Pearl 10X, simply saying it will be "in excess of 18,000lb".
Zeller says the development programme is progressing on schedule. "It is going very well; we are pleased with what we see.
"The integration work with Dassault is also going well – it is great for us to collaborate with a new customer."
Service entry for the Falcon 10X is scheduled for late 2025. Dassault is yet to disclose a first-flight target date.

Dominic Perry is deputy editor of Flight International but also contributes extensively to flightglobal.com. Although specialising in the coverage of the helicopter industry, he has written on most topics in aerospace – be they commercial, defence or business aviation. In addition, there has been an increasing focus on the decarbonisation of the industry and zero-emission flight initiatives.
View full Profile