New Western sanctions against Russia could reverberate deep in the business aviation industry, potentially ensnarling aircraft brokers, lessors, maintenance providers and other companies, say legal experts and aerospace analysts.
Such companies might not even know they are violating restrictions – a consequence of the sanctions' complexity and the propensity for Russian owners to register jets elsewhere.
"Ownership structures… are sometimes hard to penetrate," says Jonathan Epstein, aviation attorney with US law firm Holland & Knight. "If you are managing aircraft, or [a] loan or lease… you really have to look at the transaction and analyze the risk."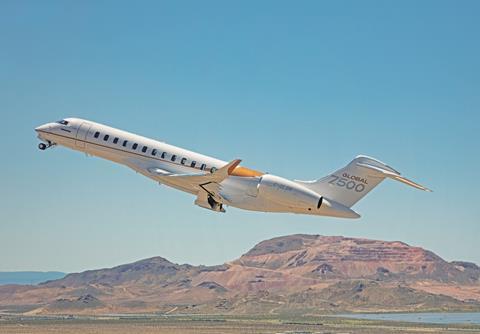 Jets owned by Russians tend to be registered in places like Luxembourg, Isle of Man, Guernsey – even the USA, adds Epstein, who spoke during a National Business Aviation Association webinar on 4 March.
Ron Epstein, financial analyst with BofA Securities, says even estimating the number of aircraft owned by Russian entities is difficult.
"It gets complicated. Many of the… Russian aircraft are not registered there," he adds.
Implemented by Western nations in response to Russia's 27 February invasion of Ukraine, the sanctions seek to prevent transfer of cash by locking Russian banks out of international financial transactions.
US restrictions also prohibit US citizens and financial institutions from doing business with some Russian banks and some Russian individuals. Additionally, US entities must "block property or interests in property" that is owned 50% or more by the Russian banks or individuals, says a Holland & Knight report.
The problem is, determining exactly who owns business jets can mean unravelling byzantine ownership structures and digging behind shell companies. For that reason, some Western companies could unknowingly run afoul of US sanctions, the experts say.
Business jet manufacturers are now seemingly shut out of the Russian market.
"Bombardier has suspended all activities with Russian clients, including all forms of technical assistance," Bombardier said on 4 March. "We will continue to adhere to international laws, regulations and sanctions as they evolve." Gulfstream president Mark Burns says the Savannah airframer "has a sizeable installed fleet in Russia", and "a growing fleet in the Ukraine".
Gulfstream does not specify how many of its jets are in those countries.
"There is always impact when things of this magnitude happens – nothing that is going to derail us, but certainty there may be a customer or two" impacted, he adds.