Saudia claims to be the first Middle East airline to commit to sustainable air mobility with plans to buy 100 aircraft from electric vertical take-off and landing (eVTOL) jet developer Lilium.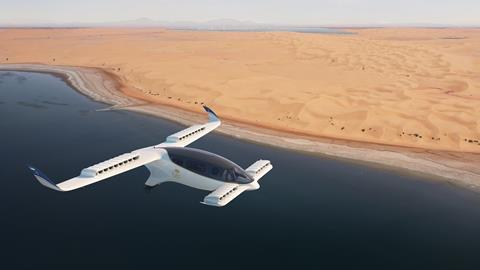 The Saudi Arabian national carrier today announced a memorandum of understanding with the German start-up, which intends to establish an eVTOL network in the kingdom. As well as point-to-point connections, Saudia says it will offer "seamless feeder connections" to its hub airports for business class passengers.
The airline says it will "support Lilium with the necessary regulatory approval processes" in Saudi Arabia.
Saudia chief executive Capt Ibrahim Koshy describes the deal as "an undertaking of great significance" for the country's aviation industry, which will encourage sustainable tourism.
Alexander Asseily, vice-chairman of Lilium, says: "We look forward to working with Saudia to deploy an eVTOL network across Saudi Arabia".
The two companies add that the arrangement is subject to them agreeing commercial terms and "completing a feasibility assessment".
Airlines across the world have stated their intention to order thousands of eVTOL aircraft from more than half a dozen developers. Lilium has commitments for 483 examples of its four-seat design, with Austria's GlobeAir the most recent potential customer with a deal for 12 units.
However, the first certificated eVTOL aircraft is almost certainly at least three years off, and, although regulators are making progress, there remain difficult questions around the rules under which these platforms will operate in commercial airspace.
In September, Lilium's new chief executive Klaus Roewe said the company is confident of achieving European certification in 2025 but admitted the flight testing process could still uncover unexpected issues.
To date, Lilium has carried out flight tests only with scaled demonstrators, with a production-representative prototype of the piloted aircraft not likely to be airborne before 2024.