Urban air mobility (UAM) infrastructure developer Skyports has secured an extra tranche of investment, bringing total funding for the UK start-up to over £6 million ($7.8 million).
And Skyport's existing "influential" backers Deutsche Bahn Digital Ventures, Aeroports de Paris and Levitate Capital have now been joined by Irelandia Aviation - a developer of low-cost airlines.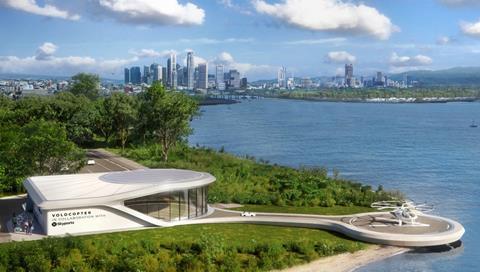 "We now have enough money to develop, test and launch the first commercial vertiports," says Skyports founder and chief executive Duncan Walker.
The company's first vertiport, which Walker describes as a "prototype pop-up structure", was installed in Singapore in October 2019, where it formed part of a week-long flight trial in the city state with Volocopter's 2X electric vertical take-off and landing (eVTOL) aircraft.
Walker says the feedback from this trial has been incorporated into the second iteration of the vertiport, construction of which is currently underway, with completion scheduled for the second quarter. The structure will be transported to an undisclosed location in North America to begin testing. Two more vertiports will follow within 12 months for trials at other locations in Asia and Europe.
"We will develop and test everything that will be needed from a successful commercial vertiport; from aircraft charging and passenger screening to airspace analysis and scheduling," says Walker.
"There is a lot to do, but we expect to complete this process by 2023 when the first eVTOL aircraft are scheduled to enter commercial service," he adds.
Los Angeles is likely to be the first location for its vertiports, and Walker says Skyports has already signed leases on three sites in the city where they will be erected. Asia will follow, with Singapore likely to be the debut location, although Walker says he is also "in talks" to locate vertiports in two other major cities in the region. Europe could follow in 2024, but a location has yet to be decided.
Walker is confident the UAM market will have built enough exposure by 2023 to enable Skyports to attract more investment and start rolling out its vertiport network globally."Our current backers have a combined balance sheet of €80 billion [$91 billion] and there is a potential for more money from them," he says. "This market has the potential to be massive."