Textron anticipates higher output from its aviation unit this year as the market for business aviation bounces back, in part driven by the effects of the coronavirus pandemic.
Chief executive Scott Donnelly, speaking on a full-year earnings call on 27 January, said that it forecasts deliveries of both turboprops and jets to increase in 2021. Its Textron Aviation division owns both the Cessna and Beechcraft brands.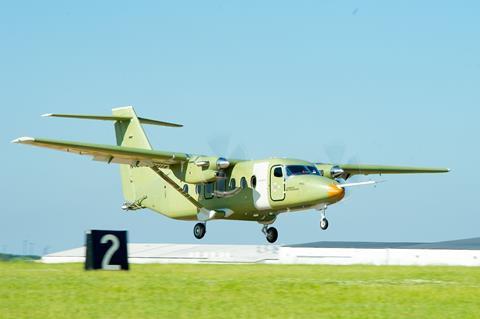 While he does not anticipate a return to 2019 levels this year, Donnelly says it is expecting "to get about halfway back in terms of both new aircraft as well as our aftermarket volumes".
That would put total shipments at around 165 for the year, in part bolstered by the first deliveries of the Cessna SkyCourier utility turboprop due in the second half of the year. Three aircraft are now in the certification programme, he says, and have accumulated over 400 flight hours.
A full recovery is expected in 2022, he says. Last year, Textron Aviation shipped 132 Cessna jets and 62 King Air turboprops – including the first new King Air 360s – down on 2019's figures of 206 and 93, respectively.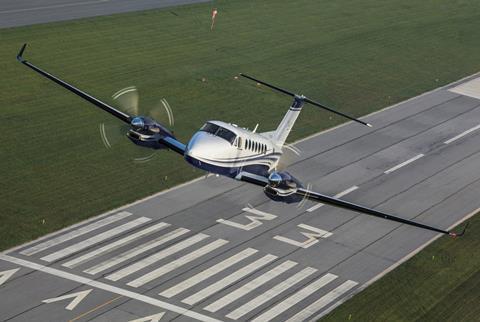 Donnelly's optimism is driven by higher levels of activity among business jet operators, which have recovered faster from the coronavirus downturn than their commercial aviation counterparts.
"Flight activity has rebounded quite strongly. November and December in the US were actually up for our aircraft over a year ago," he says, although notes that this was primarily leisure rather than business travel.
Low levels of secondhand inventory also indicate a relatively strong market, he says.
Higher activity levels in business aviation are in part due to airlines slashing routes as a response to lower demand.
As the economy starts to recover and travel restrictions are eased, he says, business travellers will start flying again.
And with commercial aviation links suspended, "for someone to go from a small airport area to a trip that's going to land them in another small airport area with fewer flights – to get through hubs, it's a [full] day.
"It's very challenging with those lower schedules. And I think health is also part of it. People feel more comfortable getting into an aircraft with just themselves or family versus getting on to commercial aircraft."
Textron Aviation saw revenues fall to $3.9 billion in 2020, down from $5.1 billion a year earlier. Profit slumped to $16 million, down from $449 million, driven lower due to nearly $200 million of one-off charges related to plant closures and headcount reductions.