Textron Aviation roared into this year's EBACE with the announcement that its Cessna Citation Excel will soon have a new family member.
The Wichita manufacturer is developing the Citation Ascend, an updated variant of the 12-passenger midsize jet, with a service entry target of 2025, Textron Aviation revealed on 22 May.
In tandem, engine supplier Pratt & Whitney Canada disclosed the development of a new version of the PW545 turbofan – the PW545D – which will power the Ascend.
"The Citation Ascend is designed to bring an entirely new cockpit, improved performance and a more luxurious cabin to the midsize business jet market," the company says. Textron Aviation has a mock-up of the Ascend's cabin at EBACE.
The company last updated the Excel in 2021 when it rolled out the XLS Gen2 variant, which included several cabin updates.
Key updates on the Ascend are Garmin's G5000 avionics suite – replacing its predecessor's Collins Aerospace Pro Line 21 cockpit – and the improved engines, plus a flat-floor cabin and larger windows.
"We asked customers what they wanted in the next evolution of this iconic aircraft, and we believe the Citation Ascend will deliver," says Textron Aviation chief executive Ron Draper.
The Garmin G5000 avionics include three 14in (35cm) high-resolution displays, weather detection and avoidance technology, dual flight management systems and auto-throttles.
Available power from the PW545Ds increases to 4,213lb (18.7kN)-thrust, up from 4,119lb on the current C-model variant, and the engine also features a FADEC system.
Additionally, the PW545Ds run cooler and burn less fuel in certain conditions, says Textron Aviation senior manager of technical marketing Jimmy Beeson.
"The engines use new materials and technology – including a more-efficient high-pressure compressor, an enhanced single-stage high-pressure turbine module and an upgraded exhaust mixer," Textron Aviation says.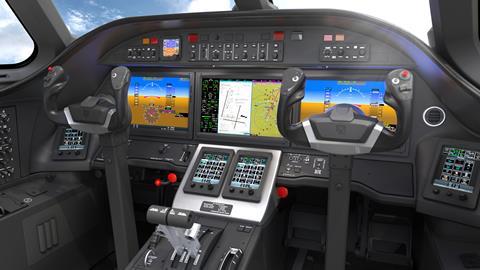 "The engine was designed and enhanced for Textron Aviation to deliver improved specific fuel consumption, thrust and time between overhauls," says P&WC.
Textron Aviation is now working toward securing an amended type certificate for the Ascend. It has already started flight-testing some components but has not completed the maiden sortie of a certification-conforming Ascend.
"Preliminary performance targets" for the Ascend include range at high-speed cruise and with four passengers of 1,900nm (3,519km), maximum range of 2,100nm, and maximum cruise speed of 441kt (817km/h) – similar specifications to the XLS Gen2. It will accommodate nine passengers in a standard configuration but be capable of carrying up to 12.
Textron Aviation says unspecified "design improvements" will allow Ascend "to carry a high combination of payload and fuel load, while retaining access to short runways". Its maximum take-off weight will be 20,500lb (9,299kg) – 170lb more than the XLS Gen2.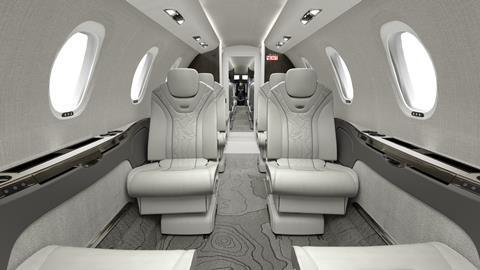 Textron Aviation says the Ascend has a "sleek design and modern features", noting its tweaks reflect feedback from aircraft owners, pilots and mechanics.
Notably, the updated jet features a flat floor – a change from the recessed aisle found in previous Excels – and cabin windows grow by "nearly" 15% over previous variants. Passengers will be able to wirelessly control the window shades and LED lights illuminate the cabin.
The updates are rounded out with larger cockpit side windows and new wing-tips. The Ascend comes as standard with Gogo's Avance L3 Max in-flight wi-fi system.
"The Citation Ascend has power at every seat, with 19 standard USB charging ports through the aircraft," says Textron Aviation senior programme manager Michelle Johannsmeyer.
Textron Aviation says it has delivered more than 1,000 Excels since the type entered service.