Textron Aviation has introduced a new version of its popular Beechcraft King Air twin-engined turboprop business aircraft, which features numerous upgrades to the cockpit designed to reduce pilot workload as well as an updated cabin.
The new King Air 360 and the extended range 360ER variant are the next generation of the airframer's respective 350i and 350ER, which the Wichita, Kansas-based company plans to begin delivering in the fourth quarter.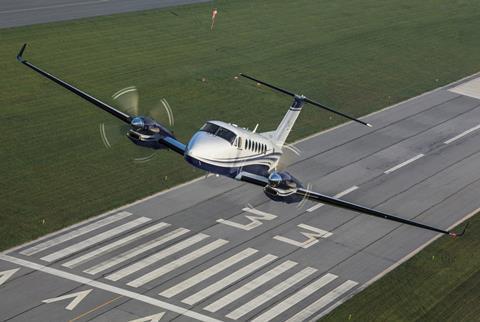 "We are very close to having the whole package ready," Rob Scholl, Textron Aviation's senior vice-president of flight operations, said on a webcast on 3 August.
The 360's base price is $7.9 million, with the 360ER listed at $8.8 million, the airframer says. The aircraft has the same specifications as the 350 models, with no changes to range or weight, Textron says. The 350i has a maximum take-off weight (MTOW) of 6,800kg (15,000lb) and a range of 1,800nm (3,345km). The 350ER, meanwhile, has a MTOW of 7,480kg and a range of 2,670nm.
Changes in the cockpit include an avionics upgrade, digital pressurisation function as well as an auto-throttle feature and some structural enhancements, Textron says.
The aircraft has already secured a supplemental type certification for the auto-throttle system, Textron says.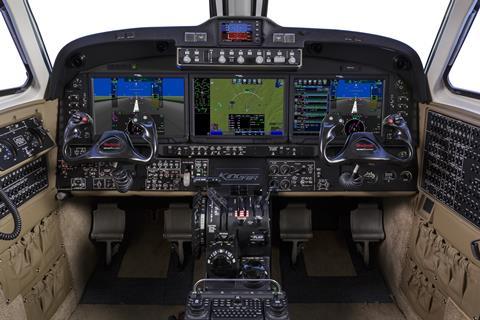 The new 360 pair also features a 10% lower cabin altitude than the 350 models. That means that when cruising at 27,000ft, inside the cabin it feels like an altitude of just 5,960ft.
In addition, the cabin, which can hold as many as nine passengers, has been streamlined and modernised, with new lighting features, USB chargers and subtle changes in legroom and table height.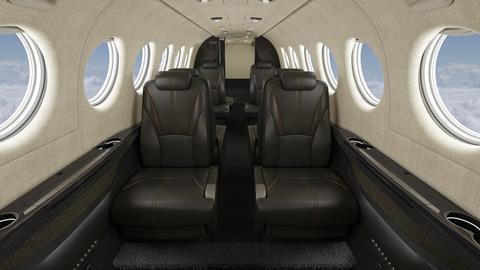 Scholl says the 360 and 360ER are not new models that will require new type certification from the Federal Aviation Administration.
Both new aircraft can also operate on sustainable aircraft fuel, he adds
The Beechcraft King Air series, which has been in production since 1964, is the most popular business turboprop family in the world, with 7,600 deliveries so far, Textron says.