Shortages of Honeywell turbofans kept Gulfstream from delivering two G280 super-midsize business jets in the first quarter, as supply chain troubles persisted – and in some cases worsened.
"This is the first quarter in which we have missed an airplane delivery as a result of supply chain issues," Phebe Novakovic, chief executive of Gulfstream parent General Dynamics, says on 27 April. "Until now, we have managed to work around late-to-schedule parts deliveries."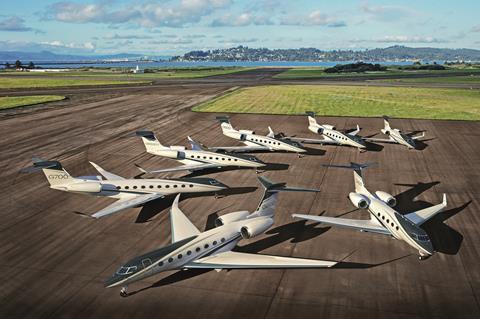 Savannah-based Gulfstream had expected to deliver 24 business jets in the first quarter but managed only 21, she says the day General Dynamics disclosed its first-quarter financial results. "The 21 deliveries in the quarter are three fewer than planned."
The three business jets Gulfstream failed to deliver last quarter included two G280s, which are powered by Honeywell HTF7000 turbofans, and a single large-cabin aircraft, she says.
"The shortages of parts-to-schedule from the supply chain – especially from Honeywell – has created significant out-of-station work, which is inherently less efficient," Novakovic adds. "We cannot increase our build rate until the supply of parts is predictable."
Honeywell declines to comment.
Many aerospace manufacturers – especially engine markers – have been struggling to keep production humming amid widespread shortages of parts and skilled workers. Airbus and Boeing in particular have called out Pratt & Whitney and CFM International for failing to supply enough engines.
As for the singe large-cabin jet that Gulfstream failed to deliver last quarter, Novakovic attributes the hold up to "bureaucratic delays in the owner's country". (She does not specify the large-cabin model, but Gulfstream produces such types as G500s, G600s and G650ERs.)
Novakovic says some aerospace suppliers – she does not specify which – had more trouble in the first quarter than previously. "This quarter we had two suppliers get worse."
But she insists such troubles are abating, saying, "We see the vast majority of this problem resolving early in the third quarter, but for two large suppliers who will take a little longer to resolve".
Broadly, Novakovic says General Dynamics' aerospace business – anchored by Gulfstream but including Swiss aviation services company Jet Aviation – "held its own in a very difficult operating environment" last quarter.
The aerospace business's $229 million first-quarter profit was down 5.8% year-on-year. Its revenue came in at $1.9 billion, roughly even from the prior-year period.
Gulfstream's 21 aircraft deliveries in the first quarter compare to 25 deliveries in the first quarter of 2022 and 28 in the first three months of 2021.
Notably, General Dynamics aerospace business's book-to-bill ratio – a measure of orders against deliveries – slipped in the first quarter to 0.91, down from 1.7 in the first quarter of 2022. Also on 27 April, competitor Bombardier reported its book-to-bill ratio slipped in the first quarter amid softening business-jet demand.