Dassault Aviation is keeping a careful eye on the certification timeline for its developmental Falcon 10X amid continued supply chain pressure that could push back the arrival of its new flagship.
Briefing journalists on 22 May, Dassault chief executive Eric Trappier said it is "a little bit too early to say" if the ultra-long-range Falcon 10X would make its end-2025 target or "would be a little bit later".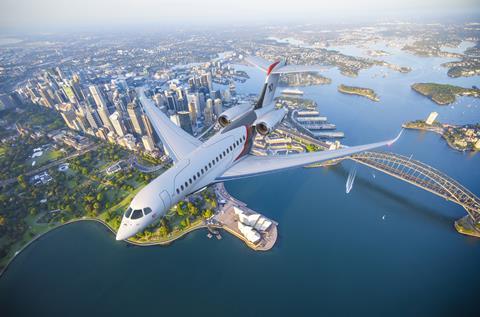 However, he notes the challenges in the supply chain which are impacting the construction of the initial prototype.
"Manufacture of the first aircraft takes time because of the delays at suppliers," he says. "We may expect some delay."
Trappier says the supply chain congestion is "worse than last year" and it is unclear whether the issue is at its worst and "it is back to normal in the coming months or year".
But Trappier says he prefers to wait until the situation is clearer to provide a more concrete update to the Falcon 10X's schedule, rather than announcing repeated six-months delays to the programme.
In addition, discussions continue with the European Union Aviation Safety Agency (EASA) relating to the introduction of single-pilot operations in the Falcon 10X.
Dassault hopes a relaxation of the rules will be possible to allow one of the two crew to rest in the cockpit during low-intensity flight phases such as cruise.
EASA representatives have been integrated into Dassault's "advance studies" in order to advance the adoption of single-pilot operations, he says.
"We do expect it as soon as possible – it is totally in line with the 10X development," says Trappier. However, he says Dassault will not commit to its availability at service entry if there is a risk of delaying the programme.
Carlos Brana, executive vice-president of civil aircraft, says production of primary parts for the first Falcon 10X prototype is under way, while long lead items such as the landing gear have been manufactured.
Ground tests of the Falcon 10X's composite wing are also ongoing: the demonstrator has accumulated 10,000 cycles to date with a target of 20,000 by the end of the summer.
Meanwhile, European certification of the Falcon 6X is due "in the coming weeks", says Brana, supporting service entry around mid-year.
Flight tests of the ultra-wide-cabin jet have wrapped up and all the required documentation has been supplied to EASA, says Trappier; US approval is likely to follow later this year.

Dominic Perry is deputy editor of Flight International but also contributes extensively to flightglobal.com. Although specialising in the coverage of the helicopter industry, he has written on most topics in aerospace – be they commercial, defence or business aviation. In addition, there has been an increasing focus on the decarbonisation of the industry and zero-emission flight initiatives.
View full Profile