Trouble at US regional banks eroded some of Bombardier's expected first-quarter order activity, a change following several years of exceedingly strong demand for new business jets.
"The regional banking crisis had an impact for two to three weeks on us," Bombardier chief executive Eric Martel says on 27 April.
"We really saw a slowdown" in March, he adds, noting that order activity has since rebounded.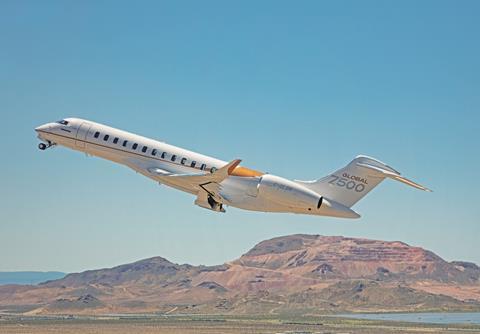 Martel made the comments the day Bombardier disclosed earning a $302 million profit during the first quarter of 2023, reversing a $287 million loss during the same period last year.
First quarters are already the slowest for new business jet orders; demand is typically tepid in January and accelerates toward the back half of March, Martel says.
But issues at US regional banks dampened Bombardier's order activity during the last two weeks of March, when activity ramps up in typical years.
Several US regional banks – including Silicon Valley Bank – failed earlier this year. The banks came under pressure due to a run on withdrawals from start-ups that had become cash hungry as financing became more scarce.
The failures led to curtailed lending.
Bombardier's first-quarter book-to-bill ratio – a oft-watched figure indicating the rate of a company's orders to its deliveries – fell below 1, to 0.9. By comparison, Bombardier reported a book-to-bill ratio of 1.4 in 2022 and 1.5 in 2021 – years of cheap financing and record-strong demand for business jets.
After the blip in March, "things came back to normal", Martel says, adding that Bombardier still aims to end 2023 with a full-year book-to-bill ratio exceeding 1.
It ended March with an order backlog valued at $14.8 billion, the same as one year prior.
That backlog prepares Bombardier well to weather any brewing economic downturn, says Martel. "We are ready if it happens… We have a very solid, stable, quality backlog."
During the first quarter, Bombardier generated 1.5 billion in revenue, up 17% year-on-year, with revenue from aircraft services showing particular strength.
The company delivered 22 business jets in the first three months of the year, up from 21 deliveries during the same period one year prior.
Like other aerospace manufacturers, Bombardier has been working to overcome supply chain troubles.
"I'm not saying it's easy with the supply chain," Martel says. "We have been able to mitigate the risk."
Bombardier still expects to meet its goal of delivering more than 138 business jets this year.