High-end charter operator VistaJet has committed to achieving carbon neutrality by 2025 as it looks to set the standard for environmental performance in the sector.
Noting that its target goes further and faster than the wider aviation industry's goal of a 50% reduction in carbon emissions by 2050, VistaJet hopes its example will be followed – or bettered – by others.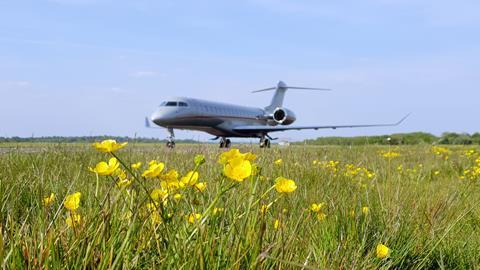 "Ultimately this is about the industry lifting up its socks and doing the best it can," says chief commercial officer Ian Moore. "I think our announcement shows what we feel needs to be the standard."
Initiatives adopted by the operator include offering customers the option of offsetting their carbon emissions, a partnership with SkyNRG to increase the uptake of sustainable aviation fuel (SAF), reducing the number of empty legs flown and the introduction of the latest-technology aircraft.
VistaJet has seen an impressive 80% take-up for its offsetting scheme, run in conjunction with environmental consultancy South Pole, far outstripping the rate seen in commercial aviation. For example, Lufthansa Group chief executive Carsten Spohr recently noted that less than 1% of its passengers use the group's voluntary scheme to buy carbon credits or SAF to compensate their flight emissions.
Moore suggests that the relative wealth of VistaJet's clientele, allied to pressure from their "stakeholders" – whether family members, investors or board members – has contributed to the high level of participation in the offsetting programme.
VistaJet's customers are also offered the option of using SAF in place of regular Jet-A on flights, with blends varying from 10% to 100%. Those levels have been achieved in collaboration with airframe supplier Bombardier and propulsion specialists GE Aviation, Honeywell and Rolls-Royce.
However, with SAF costing in some cases six times more than conventional jet fuel, Moore is keen that the industry "works out how to bring the cost down".
VistaJet has also been offering customers incentives to enable a reduction in empty legs flown, through, for example, lower rates to switch departure airports.
While 2020's disrupted travel environment means no figures are available for last year, the company achieved a 20% reduction in empty legs flown in 2019. It hopes that through the application of higher levels of artificial intelligence within its booking system, that rate can be maintained as traffic normalises.
Flying the latest generation of aircraft, such as the Bombardier Global 7500, is also contributing to the environmental performance, argues Moore. While there is also an operational cost benefit from the lower fuel consumption offered, he notes that this is more than offset by the high acquisition price of the new jets.
Other initiatives adopted by VistaJet include a move to renewable electricity on the ground, the use of sustainable products on board, and an annual greenhouse gas accounting report.
Moore believes that the commitment to carbon neutrality will spur a response from the rest of the industry. "We are now looking forward to seeing how everyone follows this – or takes it further."