German urban air mobility company Volocopter has committed to commence air taxi services in Singapore within the next three years, with longer-term plans for cross-border flights.
The commitment, which also sees the launch of its new Asian unit Volocopter Asia Holding, comes more than a year after the company successfully completed its first manned air taxi demonstration flight over downtown Singapore.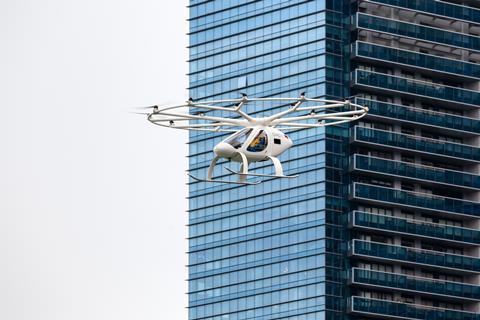 Following the October 2019 test flight, Volocopter says it will conduct further tests, flight trials, as well as evaluations, before obtaining approval from the Civil Aviation Authority of Singapore (CAAS) to commence air taxi services.
The company is also looking to tap into the updated working agreement between the CAAS and the European Union Aviation Safety Agency (EASA), first announced in early December.
Under the amended agreement, CAAS will be able to validate EASA design approvals concurrently, and in close coordination with its European counterpart's type certification processes, allowing companies in Singapore to get speedier approval to use new and emerging aerospace technologies.
Volocopter adds that its first air taxi route in Singapore is expected to fly through the city-state's southern waters, past the downtown area.
"Follow-on connections may include cross-border flights, which may enhance regional connectivity and offer a significantly improved travel experience to Singapore's closest economic centres," the company says.
It will also build up a team of 50 pilots, engineers, operation specialists and business managers over the next three years. By 2026, Volocopter states that it expects to have a staff strength of over 200.
Volocopter will also partner local tertiary institutions on research and development projects. Company chief Florian Reuter says: "The city's research institutes conducting R&D play an integral part in this. Topics like route validation for autonomous operations, material science, and research regarding battery technology are very important for our long-term business success."
On the starting of air taxi services in Singapore, Reuter adds: "Singapore is renowned for its leading role in adapting and living new technologies. Our successful cooperation with the [Economic Development Board of Singapore], [Ministry of Transport], and CAAS on our previous flight has shown that there is no better place in Asia to launch our electric air taxi services than in Singapore."