German urban air mobility company Volocopter has received Federal Aviation Administration permission to pursue certification of its autonomous, electric vertical take-off and landing (eVTOL) passenger drone for flights in the USA.
The company says on 15 January that in December the FAA accepted its "application for concurrent type certificate validation" in both the USA and Europe. That means the company is working toward certification of its VeloCity aircraft design in both jurisdictions.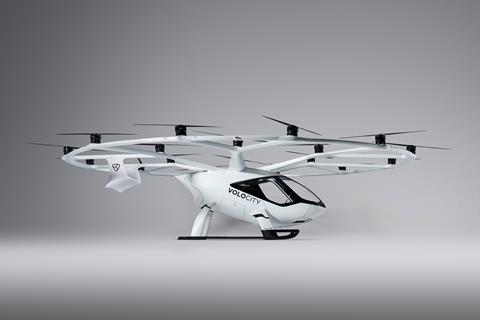 The European Union Aviation Safety Agency (EASA), Europe's aviation regulator, has already given its Design Organisation Approval (DOA), the license to develop and build certified aircraft. That gives Volocopter a clear pathway to commercial certification of its aircraft. The company expects to launch operations in Europe in the next two to three years.
But the USA is also a valued prize on every eVTOL-maker's wish list.
"From the beginning, we have considered the US an important market for our services," says Florian Reuter, the company's chief executive. "Certification is the key to this market, and we are excited to begin the process of seeking approval from the FAA to introduce this innovative era of mobility not only in Europe and Asia but also in the US."
Volocopter's VoloCity is an 18-motor, two-passenger eVTOL air taxi which the company says is designed "to meet growing demand for better intra-city mobility in large cities like Los Angeles, New York City, San Francisco and Washington, DC among others". It hopes to provide scalable air taxi services that will someday compete in cost with automobile taxis.
While the company is pursuing European and US certification, it is also active in Asia, where it also expects to receive regulatory approval to conduct commercial flights within five years. On 8 December, Volocopter said it had committed to begin air taxi services in Singapore by 2023, with longer-term plans for cross-border flights.
The company conducted its first manned air taxi demonstration flight in Singapore in October 2019 and is continuing tests and flight trials as it seeks approval from the Civil Aviation Authority of Singapore (CAAS).
Last September, it also joined forces with Japan Airlines and is targeting a commercial launch in Japan in the next three years.