The New Zealand government and urban air mobility firm Wisk have entered a memorandum of understanding for a passenger transport trial involving the company's all-electric air taxi, Cora.
The work will take place in Canterbury, New Zealand where the Cora has conducted tests since 2017, says Megan Woods, the country's minister of research, science and innovation.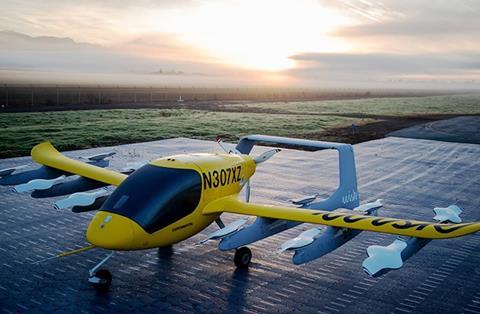 "Last year I announced the establishment of the Airspace Integration Trials Programme and that Wisk were the first industry partner to join - I'm pleased to announce that an agreement is now in place and planning for a passenger transport trial in my home region of Canterbury is underway," says Woods.
"The Government sees great potential in the development of an innovative unmanned aircraft sector in New Zealand and we are in a prime position to work with globally-leading companies here to safely test and go-to-market."
The trial's parameters, timeframes, and routes have yet to be ascertained.
Established in 2019, Wisk is a joint venture between Boeing and Kitty Hawk Corporation. Kitty Hawk, which developed the Cora aircraft, is reportedly funded by Google founder Larry Page. Its chief executive is Sebastian Thrun, a former Google employee who led the company's efforts to develop sell-driving cars.
Thrun also sits on the board of Wisk. Another Wisk board member is Logan Jones, vice president at Boeing's HorizionX, a unit that aims to apply Boeing's long industry experience to new business ideas.
The Cora aircraft, which can accommodate two passengers, features 12 wing-mounted independent rotors with the fan as its only moving part. A pusher-prop provides forward propulsion.
"Flight tests have shown that an issue with one rotor is automatically handled with no discernible change in the flight path," says Wisk.
It also has three independent flight computers, which ensures redundancy, and a parachute system for emergency landings. It is capable of flying autonomously, and can take off vertically similar to a helicopter. It has logged over 1,000 flight hours.
Its range is about 40km, and it has experimental airworthiness certificates from both the New Zealand Civil Aviation Authority and the US Federal Aviation Administration.
"We are delighted to now have a signed agreement with the New Zealand Government, which will propel Cora's entry to the air taxi market," says Wisk chief executive Gary Gysin.
"We see this agreement as a sign of confidence in our product and abilities to develop and deliver a safe and reliable air taxi service, starting in New Zealand."