US private-aviation services company Wheels Up is overhauling its business and considering selling assets in a bid to improve efficiency and stem significant financial losses.
The New York-based firm, in which Delta Air Lines holds significant equity, also says founding chief executive Kenny Dichter has stepped down. Dichter took Wheels Up public in 2021.
The company disclosed the changes on 9 May, when it also revealed losing $101 million in the first quarter of 2023 amid weaker demand for business aircraft travel.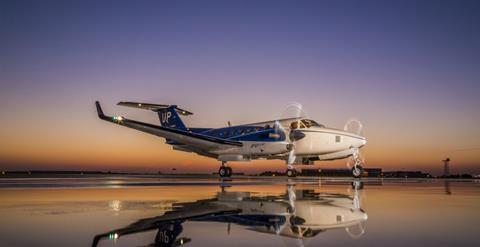 "We are seeing a general slowdown," interim CEO Todd Smith says, citing "lighter demand across a number of our segments in the first half of this year".
Former CEO Dichter, who had chaired Wheel Up's board of directors, will retain a board seat, but another board member, Ravi Thakran, is now executive chair.
"I'd like to thank our founder Kenny Dichter for his vision and work to make Wheels Up what it is today – the leading on-demand charter operator in the United States with more than $1.5 billion in revenue," Thakran says. The company is searching for a permanent CEO.
Wheels Up's business model involves selling memberships to business aircraft travel programmes. Members get guaranteed rates and other benefits.
Wheels Up owns and leases a fleet of some 200 turboprops and business jets but says other companies operate aircraft in its programmes.
In 2020, Wheels Up closed a deal with Delta. The airline held a 21% interest in Wheels Up at the end of March, says a Delta securities filing.
Wheels Up went public in July 2021, raising $650 million and promising global expansion.
But the company lost $556 million in 2022 and another $101 million last quarter. It burned through $223 million in cash during the first three months of 2023, ending March with cash and cash equivalents valued at $363 million, down from $586 million at the end of 2022.
"While our recently announced changes may create some short-term pressure, we have conviction that the long-term outcome is strong for our business," Wheels Up tells FlightGlobal. "We want to emphasise that our first-quarter cash position reflects certain business realities – the first quarter is typically our slowest for block sales, and our block [and] cash position typically improves throughout the year."
Delta declines to address questions about Wheels Up's financial situation, but adds, "We look forward to continuing to work with Wheels Up".
Wheels Up is now overhauling its business by dividing its operation into two regions – one in the eastern and one in the western USA. The new model is to take effect on 26 June. By comparison, Wheels Up has previously been what Smith calls a "one-size-fits all" provider of "nationwide" private flights.
That model posed "significant operating challenges that impact our ability to deliver our profitability goals, to truly realise the benefits of our scale and to improve our financial performance", says Smith. "These changes allow us to focus our efforts on the specific regions where we have a density advantage."
He says the changes will provide improved aircraft and crew efficiency and allow for fewer repositioning flights, noting Wheels Up will concentrate its fleet of Beechcraft King Airs in the US East Coast.
"We believe our new programme changes are not only attractive to members but will improve our competitive positioning and contribute to accelerated block sales, an important source of cash," Wheels Up tells FlightGlobal.
More changes appear imminent. Wheels Up is "evaluating the disposition of certain non-strategic assets" to better focus on its "core charter business", Smith says. He declines to name assets under such consideration.
Additionally, next week Wheels Up plans to complete the consolidation of multiple operations facilities to an operations centre in Atlanta, Delta's home city.
This story has been updated to include comments from Wheels Up and Delta.