Australia's air traffic management agency will deploy an airspace management system for small, uncrewed aircraft systems (UAS) in 2025.
Airspace Australia on 27 February said it has completed prototyping on its Flight Information Management System (FIMS) for UAS and is now focused on delivering a product in 2025.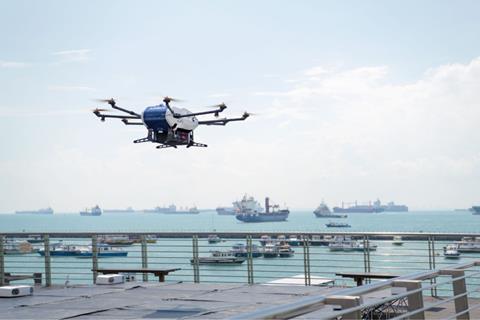 "We need more effective traffic management capabilities than those utilised today," says Luke Gumley, head of the agency's integrated airspace programme, speaking at the Australian Association Uncrewed Systems conference in Melbourne, ahead of the Avalon Airshow.
FIMS will represent the "centralised backbone" for a system of UAS traffic management (UTM), managed by Airservices Australia – alongside the existing air traffic control system for commercial aviation.
The regulator launched the integrated airspace programme in response to what it calls "astonishing growth" in UAS usage across a range of sectors, including agriculture, mining and emergency services.
"This transformation requires us to develop innovative solutions to ensure our skies remain safe for traditional aircraft, new airspace users and the community," Airservices Australia says.
The agency notes that trend will contribute to a projected doubling of global air traffic by 2037. Key to managing that growth is FIMS, which will "enable drones and other low-level operators to safely integrate with existing airspace users", according to Airservices Australia.
The system will act as the "connector" between UAS and Australia's current airspace management, says Courtney Meares-Whitty, head of the FIMS initiave for Airservices Australia.
Gumley says the UTM programme completed field-testing in November of multiple FIMS prototypes developed with private sector partners and is now shifting into the delivery phase – with a target of 2025.
As it rolls out FIMS over the next three years, the project will also deploy newly developed technologies, including access to improved geospatial data for UAS operators, a surveillance network for tracking drones and a method for the "detection of non-cooperative drones".
The ultimate goal, Gumley says, is to fully-integrate FIMS into the existing air traffic management system for civil aviation – as opposed to a bifurcated or "segregated" system in which UAS are managed separately from conventional aircraft.
"Segregated integration is not a sustainable model for the future," he notes.
Airservices Australia says its focus on safely incorporating large numbers of small drones into the existing aviation ecosystem "will foster growth in the UAS market".
The private sector appears to agree with that assessment.
"UTM solutions are essential," says Phillip Swadling, technical director of avionics at Thales. "The lack of harmonised standards are holding back drone business development," he adds.
"We need practical and pragmatic solutions that facilitate the integration of emerging technologies," says Zac Kennedy, chief regulatory officer at Swoop Aero – a Melbourne-based start-up developing networks of commercial UAS to fill gaps in existing logistics systems.
Gumley says the goal of the UTM programme is to offer a service that is as frictionless as possible, with "airspace authorisation measured in seconds, not weeks" for UAS operators. He notes Airservices Australia is working to deliver automatic airspace approval at all of the country's 29 aerodromes by end of 2023.
Under an initiative called OneSky Australia, Canberra intends to streamline airspace management even further by combining the civil and military aviation control systems. Airservices Australia and the Department of Defence are jointly developing that infrastructure, known as the Civil Military Air Traffic Management System (CMATS).
Gumley says CMATS also will eventually incorporate the launch and recovery of space-bound rockets.
Swadling argues for government to take a more active role in setting a national strategic policy on UAS, which will guide private sector development.
"There is a need for an integrated and uniform UAS strategy at the national level," he says.