Canberra has published a discussion paper exploring the opportunities and challenges involved with the increased adoption of drones and electric vertical take-off and landing (eVTOL) aircraft.
The 68-page report explores issues ranging from airspace integration to security, noise, and infrastructure. The Department of Infrastructure, Transport, Regional Development and Communications calls the paper the first step in establishing policies for a future involving widespread use of drones and eVTOL aircraft.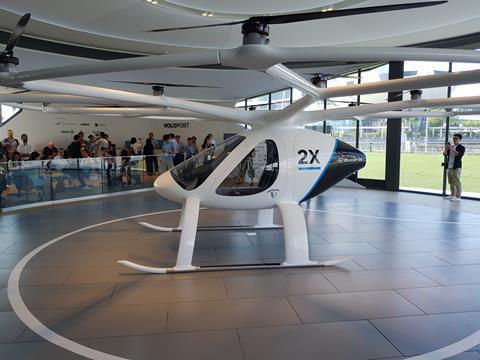 "This report found the growth of drone use is expected to support 5,500 full-time jobs, on average, each and every single year over the next 20 years in Australia," says deputy prime minister Michael McCormack.
"Expanding drone and aerial taxi use is expected to have a major economic boost for Australia, providing a $14.5 billion ($10.3 billion) increase in GDP over the next 20 years – of which $4.4 billion would be in regional areas across New South Wales, Queensland and Victoria."
In addition, drones will offer costs savings of A$9.3 billion to businesses over the next two decades.
In regard to urban air mobility (UAM), the report notes that this has been available for decades in the form of helicopters, but that cheaper, more efficient eVTOL aircraft will greatly reduce costs, creating a viable transport alternative for both urban and rural residents.
"The introduction of eVTOL operations at scale will create a new range of challenges, including maintaining the safety of the aviation system, allowing supporting infrastructure, security issues, community engagement and education," says the report.
"There will also need to be consideration of the implications regarding autonomous operations in advance of the introduction of this technology in the future, such as how responsibility and control is ensured with increasing automation as well as the legal responsibility for autonomous operations."
In additional the technical aspects of UAM and eVTOL aircraft, Canberra is also concerned that the first companies to enter the sector end up dominating the market and stifling competition. It says that there is a potential for "pseudo monopolies," which means that policy and regulations must be designed to support multiple operators.
Moreover, eVTOL operations will require investments in infrastructure, and thought must be given to regulator areas such as oversight, approvals, flight corridors, and any impact on the community.
"A core component will be ensuring multiple operators can conduct concurrent operations safely in the same airspace and considering the needs of all airspace users when undertaking infrastructure and town planning," says the report.
"As with broader drone operations, a well-planned [air traffic management system] will be particularly vital for ensuring the long-term success of eVTOL operations."