Elbit Systems will this year carry out a series of tests in the UK to assess the feasibility of using unmanned air vehicles (UAVs) to support search and rescue operations.
Contracted by the Maritime and Coastguard Agency (MCA), Elbit will provide several UAVs for the trials, including its Hermes 900 and Skylark systems.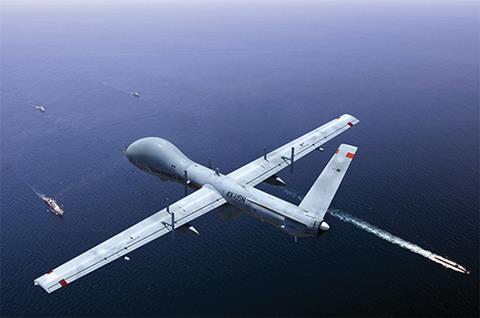 Key to the evaluation will be convincing the Civil Aviation Authority (CAA) to permit operation of the UAVs in unrestricted airspace, says Paul Eathorne, the MCA's aviation requirements lead.
At the moment the MCA's helicopter fleet – operated on its behalf by Bristow Helicopters – is ready to respond within 15min of receiving a mission and a UAV must be able to match that performance level, says Eathorne: something not possible within the CAA's current restrictions on the use of unmanned systems.
"When we task a rescue helicopter we want it to go anytime, any place and anywhere – we want to be able to do that with a drone too."
The MCA is seeking to leverage the endurance advantages of UAVs – up to 36h for the 1.2t Hermes 900 – for SAR, fisheries protection and anti-pollution missions.
Elbit is to carry out the evaluations later this year from West Wales airport, with the maritime missions to be flown in the Aberporth military training area.
Initial tests will be "very basic" and carried out in restricted airspace, gradually moving up to "more complicated trials", including night flights, and "with the agreement of the regulator", beyond visual line of sight missions and offshore sorties in unsegregated airspace, says Eathorne.
Although the exercises will simulate some offshore search missions, Eathorne stresses that their main objective is to ensure that the UAVs can be operated "reactively" and to "give [the CAA] a feeling of confidence that their rules can be alleviated and that we can fly our drones safely".
Previous trials of unmanned systems by the MCA took place in April 2018 from St Athan airport in South Wales in partnership with the Royal National Lifeboat Institution.
The MCA's interest in UAVs comes as it begins the tender process for the UK's search and rescue requirement.
Bristow's current deal expires in 2023 and initial market evaluations for the next phase – dubbed SAR-2G, or second generation – are due to commence in March, says Eathorne, leading to a contract award in 2021 or 2022.
Under the present set-up Bristow operates a fleet of 22 helicopters across 10 bases, but the MCA is keen that bidders for the next round incorporate both manned and unmanned platforms in their offers.
SAR-2G is likely to be worth about £1.6 billion ($2.1 billion) and run over 10-15 years.
If it is not feasible to deploy UAVs at the beginning of the contract, the MCA is likely to insist on some element of "innovation" over its duration.
"We don't want a contract that starts with technology that's already old and stays that way for 10 years. If you look at sensors, for example, their capability increases by the day," says Eathorne.