Thales is targeting 2023 for European civil certification of its new UAS 100 unmanned air system, after conducting a first flight of a half-scale model on 22 June.
Developed in partnership with French general aviation manufacturer and composite materials specialist Innoaire Aviation and autopilot software provider Hionos, the three-engined aircraft will have a maximum take-off weight of 100kg (220lb), and a 10kg payload capacity.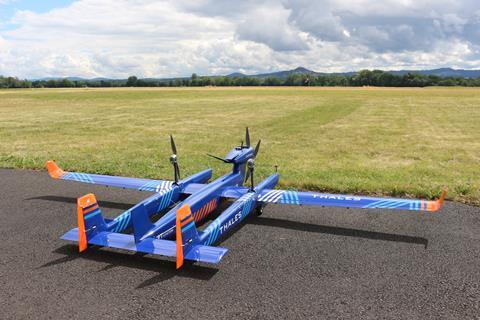 A hybrid propulsion system comprises a pair of electric motors and a mid-mounted conventional engine, each driving propellers. This configuration – installed on a tri-hull airframe – offers "optimum safety, endurance and discretion", the company says, referring to its low noise output.
"Having three engines is part of the safety concept," notes Marc Duval-Destin, vice-president strategy, product policy and innovation at Thales's flight avionics business.
With a 5.4m (17ft 6in) wingspan and 5h endurance during autonomous operations, the UAS 100 has short take-off performance, requiring "much less than a football pitch" to get airborne.
Range will be in excess of 54nm (100km), with expected commercial or government applications including powerline inspection, border surveillance, fire monitoring, event security and search and rescue (SAR) tasks.
Multiple payloads will be carried simultaneously, with Thales giving the example of carrying an electro-optical sensor and GSM signal receiver to perform SAR duties.
Military roles could also be explored for the system, with the development activity supported by the French defence ministry via its Defence Innovation Agency. Thales says that its modular design concept means that longer-endurance surveillance operations could be performed by using a larger wing.
However, the company's concept of operations involves automatic flight in non-segregated airspace at no more than 10,000ft, and perhaps only 1,500ft above populated areas.
"It is not our aim to operate in controlled airspace," says Duval-Destin. "Our challenge is to fly in open zones, near general aviation, to be safe doing that with a light system that is easy to operate and deploy."
Thales says the operational UAS 100 will meet the European Union Aviation Safety Agency's Special Condition – Light Unmanned Aircraft Systems regulations, with "world-class flight safety performance".
"We have safety features that have no equivalent on the market today" for this category of unmanned system, Duval-Destin says. This includes the use of co-operative sense and avoid technology, and Thales is exploring the use of equipment for non-cooperative capability.
"Its jam-resistant navigation system will ensure safe operation even in dense or cluttered electromagnetic environments," the company notes says.
"We will be capable of still flying even after having two failures of our critical systems, and land safely in a known remote area," says Emmanuel Guyonnet, drone programme director at Thales's flight avionics business.
Meanwhile, Yannick Assouad, Thales's executive vice-president, avionics, notes that "the new system paves the way for the [unmanned] air mobility solutions of tomorrow".
Continued testing with the half-scale vehicle will progress to conducting automatic beyond line-of-sight operations. It also is scheduled to take part in a flight demonstration during the UAV Show near Bordeaux on 21 October.
A full-scale example is due to get airborne for the first time in the second half of 2022.
Thales has already received market interest in the UAS 100 design, with Duval-Destin noting: "Our first prospects are out of France."