From the FlightGlobal and Korn Ferry team behind the annual Airline Strategy Awards, the Decade of Airline Excellence Awards are celebrating the best airline stories from the decade prior to the current crisis – a period of high points for the industry that brought air travel to new markets and catapulted issues such as sustainability to the forefront of strategic thinking. The Airline Strategy Awards will return in the usual format in 2021.
Recipient of the Decade of Airline Excellence Award for the Middle East region, sponsored by Collins Aerospace:
Emirates Airline
Emirates Airline's continued strength during the 2010-2019 period meant the judges recognised it as the region's stand-out performer.
While the Dubai carrier's credentials were already firmly established going into the decade, it continued on its journey as a benchmark airline in terms of its customer service, brand reach and network, while its influence on key aircraft programmes endured.
As one judge put it: "It's hard to argue against Emirates."
The carrier's consistency was no doubt partly driven by its stable leadership situation, with president Tim Clark continuing to helm the carrier throughout the decade, eventually announcing since-delayed plans to retire in late 2019.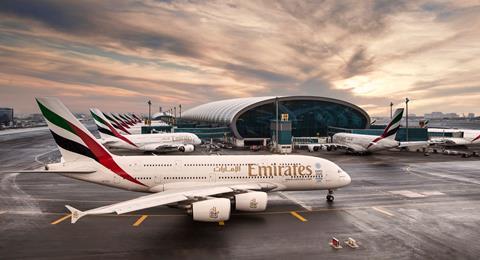 The period saw Emirates' passenger numbers increase from 31 million in 2010 to nearly 59 million, with revenues doubling at the same time, as it delivered on its mission to connect the world over Dubai.
"It has an exciting network, and used the A380 to build up its hub operations – astonishing, none of us believed it was possible," another judge observed of Emirates' achievements with the Airbus superjumbo.
But for a carrier so closely associated with the A380 programme, its influence on the development of other widebodies must also be recognised, and it played a significant role in guiding programmes such as the Airbus A350 and Boeing 777X.
Indeed, the decade saw Emirates place a raft of eye-watering orders for aircraft. Those deals notably included the largest single order by value in 2013 – albeit its commitment for 150 777X aircraft has since been trimmed.
Meanwhile, despite being firmly ex-alliance, Emirates' decade was also marked by important decisions to work more closely with other operators.
In 2012, Emirates and Qantas Airways signed an extensive commercial partnership that included network harmonisation and reciprocal frequent flyer benefits.
Then, in 2017, Emirates announced a strategic partnership with low-cost stablemate Flydubai, as they both recognised the potential benefits of network alignment.
The airline's physical product also continued to be a strong selling point throughout the decade.
"If anything, your expectations are exceeded," a judge says of the carrier's onboard offering.
But the airline did not rest on its laurels, and in 2017 introduced the world's first fully-enclosed first-class private suites.
The decade was not without its challenges, and a period of aggressive growth came to end towards the end of the period.
Speaking to FlightGlobal in 2019, Clark noted that economic pressures were ratcheting up in tandem with Emirates impersonators emerging across the region with "a single-minded attention to taking us down because we're so dominant in their markets – Africa, Middle East etc. It's like the champion boxer".
But the strength created by a successful decade leading up to the crisis means few people would bet against Emirates.
"Their product is outstanding and they are a true global connector," a judge concludes.
Nominees
Sharjah-based low-cost carrier Air Arabia drew praise from the judges, who were impressed by its success as an independent operator in a region dominated by state-owned giants. The airline embraced a unique operating model, tailored for the local market, with elements of ultra-low-cost alongside initiatives such as a loyalty programme. Judges were also impressed by Air Arabia's financial performance, and its development of bases away from its UAE home.
The other nominee was Qatar Airways, which was recognised for cementing its status as one of the world's major operators. In doing so, it created a globally recognised brand, invested in other carriers and generally punched above the weight suggested by its home country's size.
The winners of the Decade of Airline Excellence Awards are being announced on 1-3 December 2020.