2Excel Aviation's Excalibur flight test aircraft (FTA) has performed its first sorties from Boscombe Down in Wiltshire ahead of its modification in support of the trinational Global Combat Air Programme (GCAP).
An ex-Titan Airways Boeing 757-200, now registered G-FTAI, the aircraft arrived at the Qinetiq-run site after being painted in Norwich, Norfolk.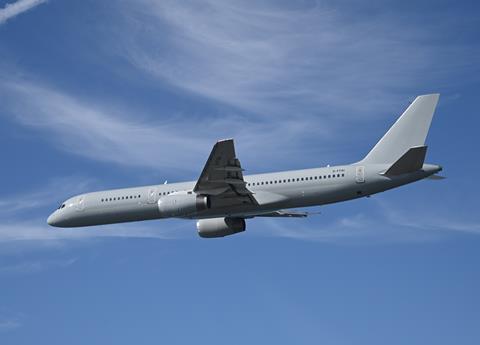 Prior artist's renderings of the modified Excalibur platform showed it in a black colour scheme, but this was ruled out for the FTA programme due to onboard cooling considerations.
Recent work by 2Excel had involved completing a C-check on the aircraft and installing extensive flight-test instrumentation equipment. This included adding some 280 fuselage-mounted sensors to precisely measure pressure and flexing movement, and a clear air sensor probe mounted at the top its tail. Efficiency-boosting winglets previously installed for airline use were removed, as they were not required for GCAP-related testing.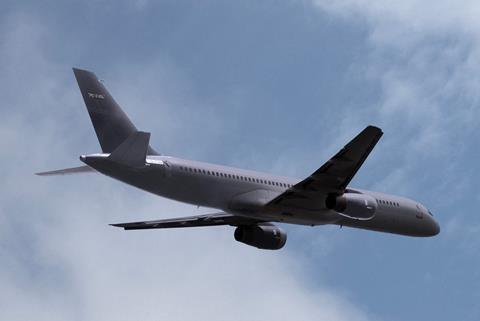 "We will be flying the aircraft until Christmas at Boscombe Down," 2Excel director Chris Norton told FlightGlobal at the DSEI show in London. Two flights had been performed by 12 September, and he says future work will include landings made at progressively increasing impact strength, to model the future effect of carrying a nose-mounted fighter radar.
The roughly three-month flight campaign will enable 2Excel to complete a so-called finite element model of the unmodified airframe, to serve as a baseline ahead of future testing.
2Excel acquired two 757s from Titan, with the other having been torn down "to understand its construction in depth" and to precisely weigh its structures.
Real data was required, Norton says, because "You can't use a model to make a model. If we derive the data ourselves it is best for the regulator." The UK Civil Aviation Authority will approve the modified Excalibur platform for use in support of airborne testing from 2026.
Equipment to be installed on the twinjet will include the integrated sensors, non-kinetic effects and integrated communications systems technology being pursued by a team of Leonardo UK, Leonardo Electronics Italy, ELT and Mitsubishi Electric, along with a prototype active electronically scanned array radar.
Norton says a core preliminary design review has been completed for the planned extensive modifications which will be made to the 757 airframe by 2Excel.
"We are trying to give the MoD [Ministry of Defence] choice and freedom of modification," he says, with the airframe to feature "the biggest possible apertures and lumps" to accommodate sensors.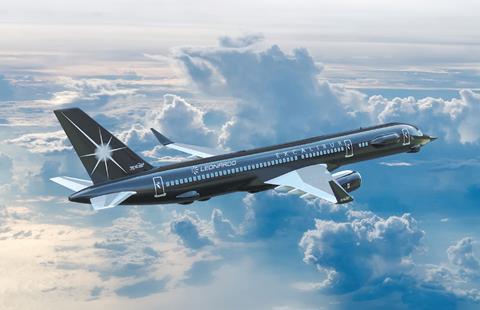 Leonardo UK in July awarded 2Excel a £115 million ($143 million) contract for the modification and operation of the FTA as a "flying laboratory for combat air technology".
A joint programme between Italy, Japan and the UK, the GCAP activity will deliver a sixth-generation manned fighter for operational introduction from 2035.

Craig Hoyle joined Flight International in 2003, and has edited the now monthly title since 2015. He has reported on the UK, European and international military aviation sector for more than 25 years, and produces our annual World Air Forces directory.
View full Profile