UK-based 2Excel Aviation is to collaborate with Israel Aerospace Industries (IAI) to develop the use of unmanned air vehicles (UAVs) in unrestricted UK airspace.
Building on a November 2021 trial carried out in Aberporth, West Wales, with IAI's Heron UAV, the initiative will seek to develop a regulatory roadmap for wider operation of the type on maritime search and rescue missions.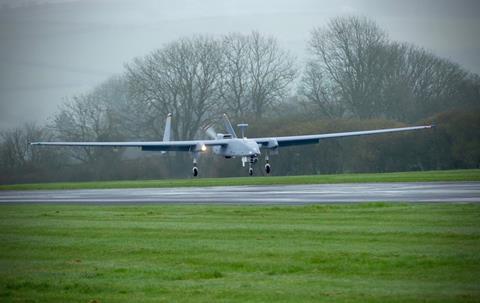 "Our number-one objective is to work with the UK regulator to start to overcome those barriers to entry," says 2Excel co-founder and director Andy Offer.
He says working with a "really experienced OEM" like IAI is key if it is to "modify the aircraft in line with regulatory requirements".
If all proceeds as planned, Offer is hopeful that a maritime version of the Heron could be operating as a customer demonstrator by mid-2024.
Moshe Levy, executive vice-president and general manager of IAI's military aircraft group, says the company's experience certifying civil aircraft will help the project.
"We are quite aware of the challenges ahead," he says. "But a company with the experience and knowledge we have gained will be able to do it much faster."
2Excel operates Beechcraft King Air fixed-wing aircraft as part of a search and rescue (SAR) contract on behalf of the UK Maritime and Coastguard Agency.
From next year it transitions to a new deal with the agency – SAR2G, working alongside Bristow Helicopters – which calls for the future use of unmanned systems.
"All we are doing is preparing for the future," says Offer. "But a lot of our customer base would benefit from the persistence an uncrewed aircraft brings."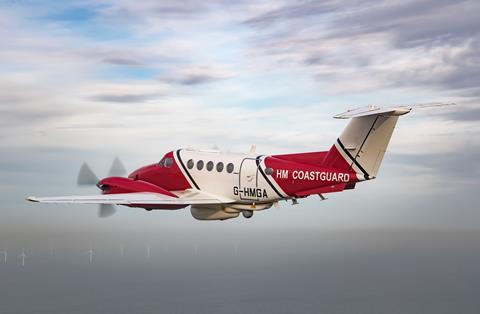 Meanwhile, 2Excel continues its preparatory work ahead of the switch to the SAR2G contract, says co-founder and director Chris Norton.
That includes a switch to the King Air 350, from the smaller King Air 200 currently. "They will have more range, more endurance and more capacity," says Norton. In addition, they will be equipped with the "cutting edge" Leonardo Osprey maritime radar, he adds.
Modification work on the new fleet is under way at Humberside airport, ahead of certification and service entry next year.
2Excel's King Air fleet will be based at Humberside, Newquay and Prestwick airports, in part due to the closure last year of its former operational base at Doncaster-Sheffield.
In addition, 2Excel is working to stand up a new fixed-wing SAR capability in Ireland, again alongside lead contractor Bristow. That will see a pair of King Air 200s operated from Shannon airport.
Separately, the company is expecting a tender later this year from Oil Spill Response relating to the replacement of its current Boeing 727 assets (G-OSRA/B).
Norton thinks it will most likely respond with a 737-based solution, based on running costs and spare parts availability. However, other types will also be considered, he says.

Dominic Perry is deputy editor of Flight International but also contributes extensively to flightglobal.com. Although specialising in the coverage of the helicopter industry, he has written on most topics in aerospace – be they commercial, defence or business aviation. In addition, there has been an increasing focus on the decarbonisation of the industry and zero-emission flight initiatives.
View full Profile