UK-based 2Excel Aviation is gearing up to begin the next stage of conversion work that will see a Boeing 757-200 transformed into a flying testbed in support of the country's Tempest future combat air system, after gaining a contract from Leonardo for the activity.
Building on a two-year concept and design phase which involved digitally modeling some of the proposed alterations, the new contract covers preparatory work on the 1995-built 757 (G-BYAW) – now dubbed Excalibur – prior to any significant changes to the airframe taking place.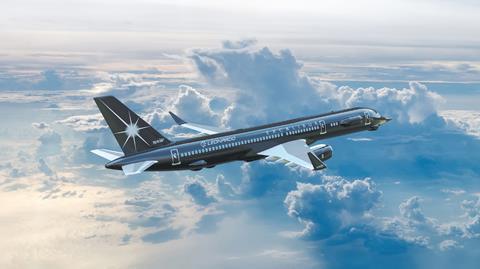 Such a testbed is required in order to evaluate and mature the next-generation sensors – including Leonardo's proposed Multi Function Radio Frequency System radar – communications systems and electronic warfare equipment, says the company's capability manager Martin Downes.
"We need to make sure we have a solution that works when the aircraft needs it," he says.
Taking its inspiration from the USA's Catbird and Catfish flying testbeds – a 737-300 and 757-200, respectively – the new platform will allow the UK to trial the sensor suite as an integrated system.
Downes notes that while the country has previously flight tested individual systems, it has not before attempted something of this "complexity", which is "trying to bring all these sensors together to test them in a real environment at the same time".
Simulation on its own will "probably not" provide sufficient evaluation, says Downes, adding: "It is really expensive to find out at the end that the real aircraft has some issues that we could have found several years earlier."
2Excel was selected to develop the testbed after a competition that featured other bidders that proposed late-model 737s and the BAe 146.
Chris Norton, 2Excel founder and manager of the Excalibur programme, says it picked the legacy Boeing platform due to its size – both the length of its fuselage and ground clearance – payload capacity, endurance and range.
And, as the "technology of the future is going to be really power-hungry," he says, the combined 270KVA of electrical power generated by its two Rolls-Royce RB211 engines and auxiliary power unit is crucial.
2Excel will work with Leonardo to finalise the exact specification of the sensor mounts and their locations before "we cut those holes", says Norton; parts for the project will be manufactured at its site at Doncaster airport in South Yorkshire.
Internal modifications will include the installation of around a dozen operator stations and potentially a "representative-type cockpit" to test how sensor data is presented to the pilot. In addition, utilities such as power, cooling, racking, computing and data recording will be added.
Acquired as an airframe only from carrier TUI in November 2019, the aircraft is currently parked at 2Excel's facility at Lasham airfield in Hampshire.
An initial "baselining" flight will take place in around 18 months time, as "we want to know exactly how it flies before we begin modifying it", says Norton.
However, that milestone will be left as long as possible to avoid incurring the cost of acquiring engines for the 757, helping to drive value for money on the programme.
Modification work will take between 12 and 36 months, says Norton, ushering in another round of flight testing that will culminate in UK civil certification. Equipment can then be installed, although there is no fixed timeline: "It will be ready when it's ready," he says.
The testbed will eventually become available for use by third parties, says Downes, further helping to drive value on the programme.
"From the UK's perspective international collaboration is part of the agenda," adds Norton.