Rolls-Royce is hopeful that it will shortly be able to start test flights of military transport aircraft powered by its engines and using blends of 100% sustainable aviation fuel (SAF).
At present, the UK manufacturer's powerplants are qualified for 50% SAF blends, but R-R believes there is strong demand from its military customers to take this further.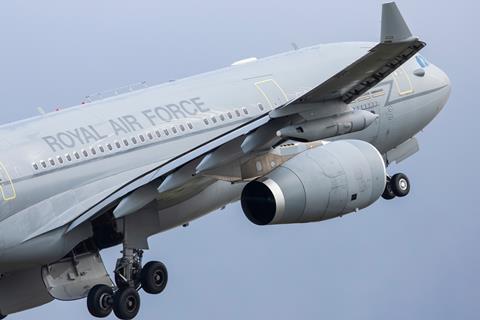 "We have already commenced a really good conversation with the UK Royal Air Force [RAF] and we are starting conversations internationally as well about how we can use SAF in gas turbine systems to take customers on their declared journeys to [carbon] net zero," Dave Gordon, senior vice-president of R-R's UK defence business, said during a pre-DSEI briefing on 9 September.
He points out that several air forces globally have made "very public statements around their decarbonisation aspirations" – for example, the RAF aims to reach net zero by 2040. Increased use of SAF is the "only credible way" these goals can be met, he says.
R-R will "target first of all those assets with high utilisation," he says, noting that aircraft which are derivatives of commercial types, such as the Trent 700-powered Airbus Defence & Space A330 multi-role tanker transport (MRTT), will offer the "quickest route to demonstration".
Gordon believes such test activities could begin quickly once there is an agreement with both a customer and Airbus, which would also have certification benefits for commercial operators of the A330.
Due to the strong similarity between SAF and regular jet fuel "the technical challenge [to run on a 100% blend] is not as great as it sounds", he adds.
Aside from the environmental benefits, increased SAF use could "extend the life of the gas turbine", plus provide customers with "resilience and security of supply" if they are no longer reliant on conventional fuels.