With its 100th operational aircraft delivered and several key development hurdles cleared within the last 18 months, the A400M is now "at a turning point", the Airbus Defence & Space official in charge of the programme believes.
Speaking exclusively to FlightGlobal on 20 May, Clive Schley, A400M programme head at the company's military aircraft unit, also voiced his optimism about future additional sales of the Atlas – both to existing operators and new international customers.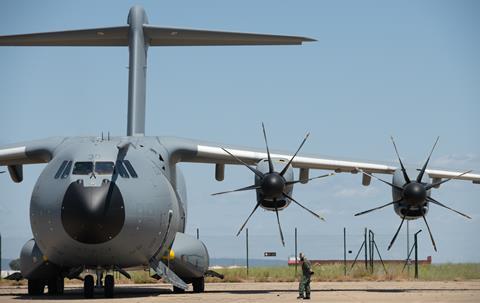 The A400M programme was formally launched in May 2003, with partner nations Belgium, France, Germany, Luxembourg, Spain, Turkey and the UK committing to a combined 170 examples, and export buyer Malaysia four.
On 24 May, the Spanish air force's 10th of an eventual 27 A400Ms was ferried to Zaragoza air base from Airbus's San Pablo final assembly site in Seville. This airframe – MSN111 – took the number of operational transports delivered into three figures, just under eight years after the French air force had received the first.
For Schley, the 100th delivery milestone is one certainly worth celebrating, but given the project's considerable travails since launch and its remaining challenges, there is no sense of euphoria.
"For the last 10 years the programme was heavily challenged. Being late, our customers were challenging us a lot about the achievement of capabilities," he says. "We have not yet fully finished the development, [and] we are not where I want us to be on supportability, fleet availability and maturity."
But these issues aside, Schley notes that the Atlas has made great strides so far this decade in both development and operational terms, and proven its value to nations during their pandemic response efforts.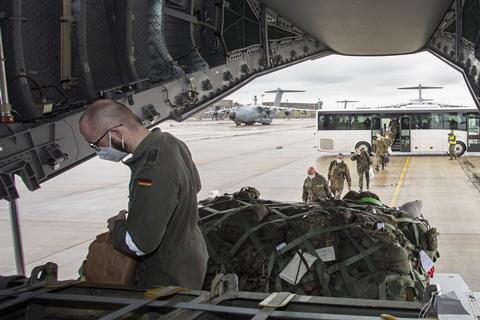 Utilisation rates for the tactical transport have soared since the start of the Covid-19 crisis: flight hours in 2020 were up 40% on the previous year. This spike contributed to another milestone being reached in late May, as the global operational fleet topped a combined 100,000 flying hours. This represents a significant boost in activity, with 40,000h having been added since late 2019.
"The customers start to rely on and utilise this aircraft – despite all the challenges on fleet availability, materiel support and investment on the nations' side," says Schley. He notes that the Spanish air force retired its Lockheed Martin C/KC-130H transports last December, while the UK will cease operations with its remaining 14 J-model Hercules in 2023.
"The aircraft flies more than before, and we see it more or less everywhere around the globe," he says. This ranges from its strategic-type use in delivering supplies urgently needed to counter the coronavirus outbreak, to frontline operations – for example supporting the French military's peacekeeping activities in west Africa.
The last 18 months have also seen what he describes as "incredible progress" in flight-testing related to some of the airlifter's long-overdue promised tactical capabilities. This has included proving the ability to deploy 116 paratroopers from its side doors in a single pass, performing automatic low-level flight in instrument meteorological conditions, and nearing certification for the air-to-air refuelling of French air force Airbus Helicopters H225M Caracal combat search and rescue rotorcraft.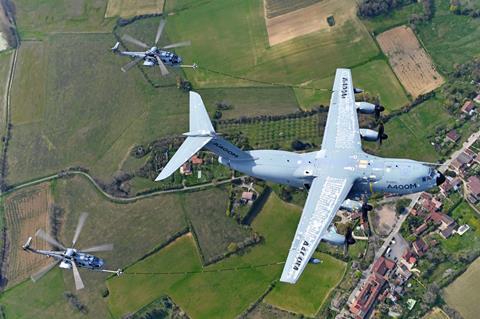 "We have achieved capabilities that even two or three years ago were judged as not achievable", or only "borderline feasible", he notes.
In mid-2020, the partner nations also approved the A400M's so-called NSOC 2.0 certification standard, marking its first major capability update since service introduction in October 2013.
"The challenge [to Airbus] from the nations related to capabilities is completely off the table – this is not giving me a headache at the moment," Schley says. "There has been a huge advance in the capabilities of the aircraft, which the nations are now working on." He notes that once new clearances are made by the company, national flight trials and approval processes can take a further 12-18 months to complete.
With operational use having increased markedly, he says that fleet availability and affordability are key focus areas for the type's customers, and that a maturity drive will run until 2023 to address this. "It takes time – the nations and operators know that, and are working with us," he says.
One of the A400M's biggest headaches over time has been around the performance and reliability of its Europrop International (EPI) TP400-D6 turboprop engines. Schley says that a propeller gearbox (PGB) replacement activity already performed on part of the in-service fleet has resolved issues with that component. "For those aircraft that have been retrofitted, they have no problems anymore," he says.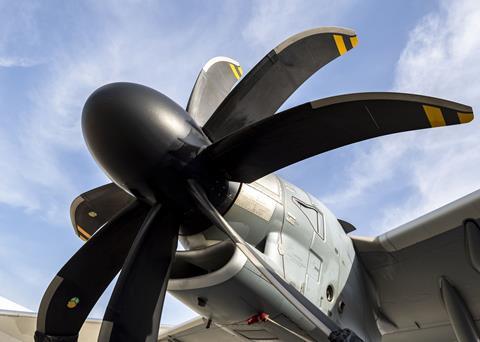 But with several airworthiness directives having been issued by the European Union Aviation Safety Agency related to the PGB flaw and the TP400's low and high pressure turbine discs, Airbus is working with EPI and the regulator to recertificate a new standard for the powerplant.
Expected to conclude in July, this process will enable Airbus to establish new maintenance schedules, using what Schley describes as "less conservative assumptions". Success in this endeavour is of great importance, he notes, because: "the engine still places a burden on the shoulders of our clients".
An aerospace engineer by trade, Schley has been Airbus's A400M programme manager for the last two years. His prior experience included leading its involvement in the Airbus Helicopters Tiger attack helicopter and NH Industries NH90 transport rotorcraft.
He sees a clear parallel between the A400M's difficulty in achieving export success and the NH90's troubled early period. He notes that following its European launch order, the NH90 encountered a 12-year wait before securing an international buyer.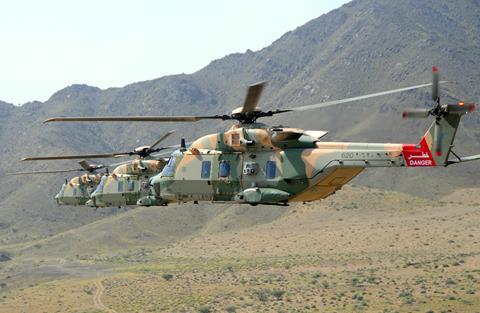 But since that time – and despite ongoing support challenges and industrial complexity – the tactical transport and maritime helicopter has become a major success. Cirium fleets data shows that there are 427 NH90s in active use currently, with another 163 on order.
"When you look into the complexity of the [A400M and NH90] programmes and especially the customers you can transfer it one-to-one," he says.
What then of the A400M's international prospects?
"I hope that in the coming two to three years we will see a significant positive momentum," says Schley. He says prospects exist in Africa, the Asia-Pacific region and the Middle East – and among the type's existing users for follow-on purchases.
Indonesia, which in early 2018 expressed interest in taking two aircraft to support domestic logistics and humanitarian operations, has yet to advance with a procurement.
He notes that again the comparison with the NH90 holds true, with countries opting to observe the A400M's progress before committing.
"Over the last two years, their main message has been: finalise your development, improve the maturity of the aircraft and [then] we will speak to you, but also to your launch customers, to see whether they are happy with you and your performance. If, at that moment in time you have made it for your launch customers, then we will express our serious interest. We have several nations around the globe that are in this observing position."
While the pandemic has seen demand for the type's services soar, it also has brought negative consequences for the programme.
Full operational capability had previously been scheduled for approval by the nations before the end of this year, but Schley says that work supporting the certification of design for the NSOC 3 standard now should be completed in the second half of 2022, leading to type acceptance during 2023. Part of this slip can be attributed to disrupted access to government-owned test facilities used for airdrop and self-protection equipment trials, which have been responsible for a six- to eight-month wait.
In light of these conditions, he notes: "Having too much export success too early can be a problem. A couple of years more will help with the ramp-up."
A "rebaselining" contract signed with the European launch nations in 2019 reduced final assembly of the A400M to its current rate of eight to nine per year, safeguarding manufacturing until 2030. There is, however, flexibility to increase this to 11 or 12 – or further – should demand dictate.
Schley highlights the UK Ministry of Defence's (MoD's) commitment to the programme and interest in boosting the operational capabilities of its Atlas fleet, as detailed in late March within its Defence in a competitive age planning document for the 2021-2025 period.
He notes that the decision to dispose of the Royal Air Force's (RAF's) stretched-fuselage C-130Js within two years comes "at a point when the Royal Air Force and the UK government are reasonably convinced that A400M has reached a maturity level that it can serve the nation and its commitments".
The RAF has so far received 20 of its contracted 22 Atlas aircraft, with the remainder to follow in July 2022 and June 2023.
"The next phase of A400M development will be to build upon the aircraft's proven ability to operate in warfighting and humanitarian and disaster relief scenarios," the MoD tells FlightGlobal. "This will see an expansion of its warfighting capabilities such as land-operating on natural surfaces, dispatch of parachuted supplies as well as paratroopers and their fighting equipment, both day and night."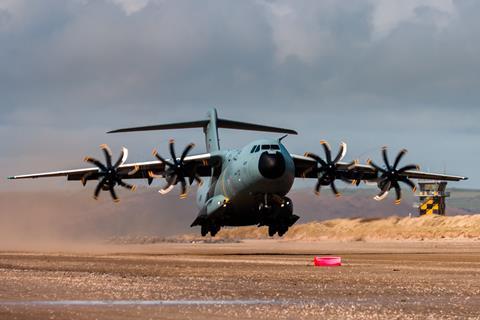 London's original commitment to the programme was for 25 of the type, but this was trimmed by three units ahead of the programme's launch order.
"We are constantly assessing the needs of our armed forces and no decision has been made on any changes to the size of our A400M fleet," the MoD says.
"There is a life beyond the development and production contract," Schley says, noting that were Airbus to secure a repeat order from one of its partner nations, this "would be a fantastic message to the market".
"Among our launching customers, we have more than one nation that is thinking about enlarging their fleet," he reveals, without identifying the nations concerned.
Schley also sees potential new applications for the transport, such as in supporting maritime patrol activities; the RAF currently uses the type for such work while defending the Falkland Islands.
And with army and navy personnel having witnessed the type's operational capabilities, he says: "Other services see the A400M as an asset." Future enhancements to support their requirements could include expanding the type of equipment that can be airdropped by the Atlas, and increasing release altitudes.
As an example, Airbus has already conducted modelling work on the A400M's ability to air-deploy remote carrier vehicles; equipment planned as part of a Future Combat Air System (FCAS) project involving France, Germany and Spain.
Schley says discussions about flight trials have already taken place with one of the nations. "We are very closely embedded into this FCAS initiative," he notes.