The Northrop Grumman AGM-88G Advanced Anti-Radiation Guided Missile – Extended Range (AARGM-ER) is poised to enter production.
The weapon, an enhancement of the baseline AARGM, has received Milestone C clearance, allowing for the first phase of production, says the US Naval Air Systems Command (NAVAIR).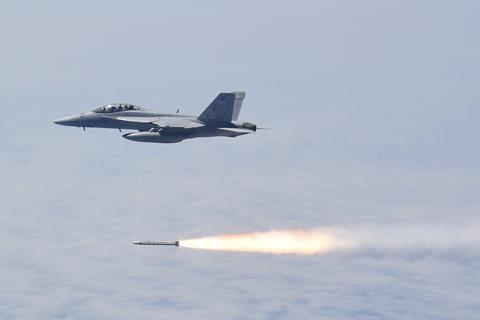 "The combined government/industry team has worked tirelessly over the last few years to reach this milestone," says US Navy Captain Alex Dutko, the service's Direct and Time Sensitive Strike program manager.
"We look forward to getting this new weapon with its increased capability and lethality out to the fleet as soon as possible."
The Milestone C decision was taken more than two years after the contract award to Northrop.
On 19 July, the US Navy successfully launched an AARGM-ER from a Boeing F/A-18F Super Hornet at the Point Mugu Sea Range off the coast of southern California.
According to NAVAIR, AARGM's role is the "suppression and/or destruction of enemy air defences." The weapon, equipped with a multi-mode seeker, is capable of engaging air defence systems that emit radar waves, and attacking them even if emissions are stopped and the target is moved.
NAVAIR does not disclose the range of either the baseline AARGM or the AARGM-ER.
AARGM-ER will be integrated with the Super Hornet and its electronic warfare variant, the EA-18G Growler. All three variants of the Lockheed Martin F-35 will also be capable of using the weapon.