Aero Vodochody has performed a roughly 40min debut flight with the first production example of its new-generation L-39NG advanced jet trainer and light combat aircraft.
"During the flight, the pilots tested the functions of the trainer aircraft within the scope of the standard factory sortie programme," the Czech Republic-based airframer says. It notes that the milestone marks the first time in 20 years that it has flown a new L-39-series jet for a customer.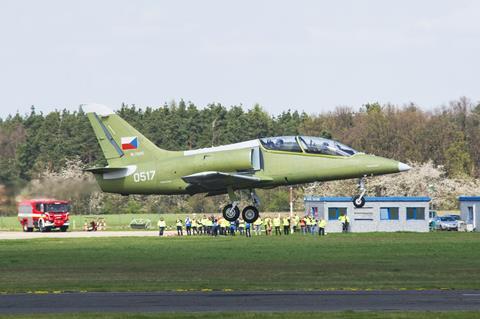 "The pilots verified the functions of the engine, aircraft systems and avionics, as well as the handling and behaviour of the aircraft in all phases of flight from take-off through aerobatics to landing," the company says.
During the sortie, the Williams International FJ44-powered jet (serial number 7005) reached an altitude of almost 28,000ft, and a maximum speed of nearly 490kt (900km/h).
"The flight of the first production aircraft confirmed the readiness of the L-39NG for serial delivery to our customers," says Aero Vodochody chief executive Viktor Sotona, who notes: "it is an excellent platform for training pilots of fourth- and fifth-generation fighters."
The airframer confirms that the first production aircraft is "destined for a customer in Southeast Asia". While it declines to name the nation, its current order book includes a 12-strong commitment from Vietnam. The Czech Republic, Hungary and Senegal are among other buyers, with a total of 34 aircraft under contract.
Aero Vodochody expects to be producing up to 24 L-39NGs annually within the next two years, having recently established a new production line dedicated to building the type.

Craig Hoyle joined Flight International in 2003, and has edited the now monthly title since 2015. He has reported on the UK, European and international military aviation sector for more than 25 years, and produces our annual World Air Forces directory.
View full Profile