Aero Vodochody's L-39NG has been certificated by the Czech defence ministry, freeing the Prague-based manufacturer to operate the trainer in international airspace and launch customer deliveries.
The aircraft – a modernised version of the Cold War-era L-39 Albatros single-engined trainer – is one of the first to be certificated under new supranational military standards that are recognised by all EU and NATO military authorities, says Aero Vodochody.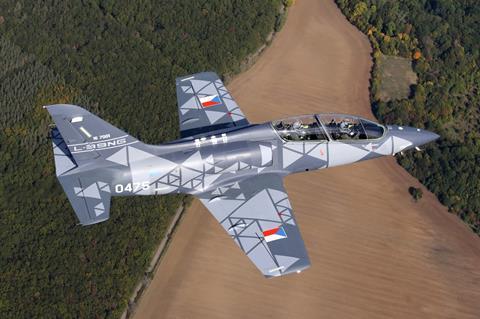 The company, which flew the L-39NG for the first time in December 2018, performed around 300 test flights on two flying prototypes, as well as ground tests on a pair of static airframes.
Last year, Aero Vodochody changed its certification schedule for the Williams International FJ44-4M-powered L-39NG, opting to clear the type for delivery in a full trainer configuration during the third quarter of 2020, rather than securing approval for a basic standard in late 2019, citing "customer demands" for a more capable aircraft.
Aero Vodochody has orders for 26 L-39NGs – 12 and 10, respectively, for military flight training providers RSW Aviation and SkyTech, while the Senegal air force is taking four.
The culmination of the flight-test campaign comes as Czech investment company Penta, Aero Vodochody's parent since its privatisation 14 years ago, hands over ownership to Hungarian businessman Andras Tombor, who will retain 51% of the company, and national defence group Omnipol, which was already a shareholder in the L-39NG programme and will hold 49%.
In June, the Czech government offered Slovakia "long-term" participation in the programme, together with an in-country training package, if its neighbour committed to acquiring eight L-39NGs.
Slovakia is sending Lockheed Martin F-16 Block 70 pilots for instruction in the USA, but Prague argues that training them in the region would save money.