The US government has cleared the possible sale of Raytheon AIM-9X Block II Sidewinder air-to-air missiles to Taiwan, amid continued Chinese aerial incursions.
In a 2 September notification, the US Defense Security Cooperation Agency (DSCA) says that the Taipei Economic and Cultural Representative Office – the country's de facto embassy in the USA – was cleared to obtain 100 AIM-9X Block II Sidewinders at a cost of $85.6 million.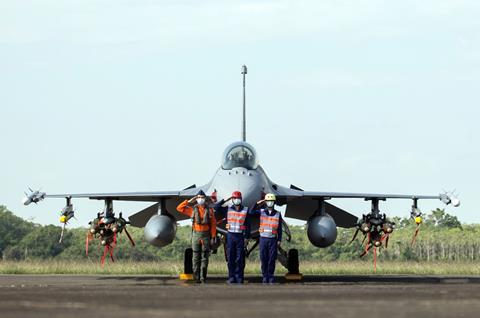 In addition to the weapons, the deal provides training gear, support, and logistics.
"The proposed sale will contribute to the modernization of the recipient's capability to meet current and future threats as it will be able to employ a highly reliable and effective system to increase their warfighting effectiveness, as needed, which can counter or deter aggressions by demonstrated precision against air targets," says the DSCA.
"This equipment will contribute to the recipient's goal of updating its military capability while further enhancing interoperability with the United States and other allies. The recipient will have no difficulty absorbing this equipment into its armed forces."
According to Raytheon, the infrared-homing missile can be used for air-to-air and surface attack missions. It also has a "lock-on-after-launch" capability owing to a new datalink, which supports beyond visual range engagements.
The missiles will likely equip Taiwan's primary fighter, the Lockheed Martin F-16. Taiwan also operates Northrop F-5s, AIDC F-CK-1s, and Dassault Mirage 2000s in air combat roles.
In addition to the Sidewinder sale, the DSCA also cleared a possible $355 million sale of 60 Boeing AGM-84L Harpoon anti-ship missiles. Launched from trucks, these weapons will be difficult for Chinese forces to locate in the event Beijing attempts an amphibious assault against Taiwan – China views indepdently governed Taiwan as a breakaway province.
Another possible deal involves $665 million in support work for Taiwan's Surveillance Radar Programme, for which Raytheon is also the prime contractor.
Separately, Beijing continues to mount aerial sorties in the skies near Taiwan, including brief transgressions over the so-called "median line" in the Taiwan Strait. The increased incursions follow a 2 August visit to Taiwan by US House Speaker Nancy Pelosi.
Daily figures from Taiwan's defence ministry suggest the People's Liberation Army Air Force has conducted 473 sorties against Taiwan since 1 August. Fighters – namely the Sukhoi Su-30, Shenyang J-16 and J-11 – have accounted for 92% of activity.