India's first C295 tactical transport has been handed over to the customer, with the twin-turboprop due to depart its San Pablo final assembly site near Seville for Delhi "in the next few days".
"We are enhancing the capabilities of the Indian air force and modernising its transport fleet by delivering the first aircraft on schedule," says Jean-Brice Dumont, the company's head of military air systems.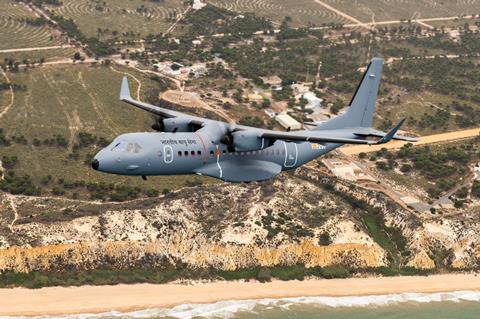 Sixteen aircraft will be completed in Spain and delivered in a so-called "fly-away" condition, as part of a 56-unit acquisition signed in 2021. "The second aircraft [is] due to be delivered in May 2024, and the next 14 rolled out at a rate of one per month until August 2025," Airbus says.
Another 40 of the type will be manufactured and assembled in Vadodara, western India, in partnership with Tata Advanced Systems. The facility is due to become operational by November 2024, Airbus says, and "the production of components of these aircraft has already started in the main constituent assembly facility in Hyderabad, southern India.
Deliveries of the first Vadodara-built C295 will commence in September 2026, and run until August 2031.

Craig Hoyle joined Flight International in 2003, and has edited the now monthly title since 2015. He has reported on the UK, European and international military aviation sector for more than 25 years, and produces our annual World Air Forces directory.
View full Profile