Airbus Helicopters expects to begin accelerating testing of its VSR700 unmanned air vehicle (UAV) prototype following its first free flight, as the airframer builds towards deck landing trials later this year and sea trials in 2021.
Conducted at a test facility near Aix-en-Provence in the south of France, the 10min untethered sortie is a significant step forward for the naval demonstrator programme.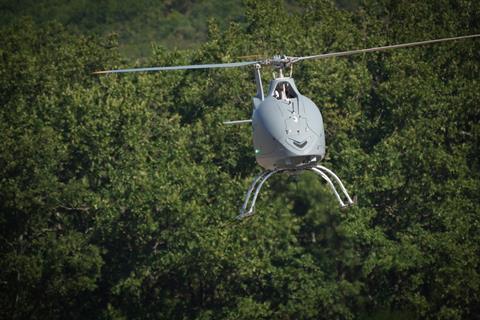 Sea trials of the aircraft, which is being developed as a technology maturation effort for the French navy, will begin in 2021.
However, deck landing trials will begin later this year using an optionally piloted version (OPV) of the VSR700, which is being brought to the same configuration as its sister aircraft.
Funding for a second VSR700 prototype was recently announced in the French government's PlanAero support package for the country's aerospace sector. A contract covering that acquisition is likely to be finalised by year-end.
First flight of the Helicopteres Guimbal Cabri G2-based UAV took place in November 2019, while an unmanned flight with the OPV was performed around a year earlier.
To enable the latest advance, the airframer implemented a geofenced perimeter around the test site, beyond which the VSR700 was unable to stray.
"The flight-test programme will now evolve to progressively open the flight envelope," says Airbus Helicopters.
Since the maiden sortie last November improvements have been made to the air vehicle, including structural modifications and reinforcement, the addition of a flight-ending "termination system" and control software updates.
The VSR700 is in the 500-1,000kg (1,100-2,200lb) weight class and will be able to carry a variety of naval sensors. Endurance is billed as 8-10h, depending on the payload.
Airbus Helicopters is developing the VSR700 alongside Naval Group under a contract awarded by the DGA procurement agency in early 2018, ahead of the French navy's acquisition of a future UAV.