Airbus Helicopters has completed an initial round of autonomous take-off and landing tests at sea using a modified Guimbal Cabri light rotorcraft as part of its VSR700 unmanned air system (UAS) development for the French navy.
Conducted off the coast of Brittany in northwest France, a total of 150 autonomous launches and recoveries took place from a civilian vessel equipped with a helicopter landing deck.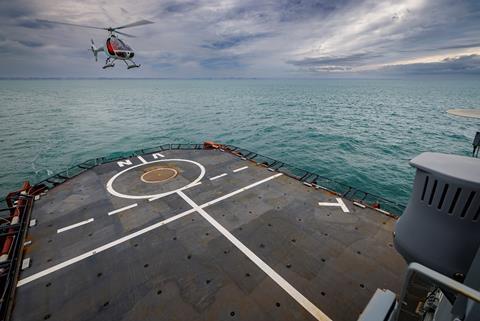 Modifications to the Cabri G2 include the installation of the autonomous take-off and landing (ATOL) system developed for the VSR700.
Carried out in the presence of experts from France's DGA military procurement agency, the tests pave the way for embarked trials of a VSR700 prototype later this year from a French navy frigate.
Test flights were performed in an optionally piloted configuration, with the aircraft initially conducting piloted take-offs and landings "before switching progressively to fully autonomous manoeuvres," says Airbus Helicopters.
Approach procedures, the VSR700's flight envelope in proximity to a vessel, and deck handling were also assessed.
Selected for the French navy's SDAM programme, an initial prototype of the VSR700 flew in 2020, with envelope expansion work carried out last year. A second prototype of the 500-1,000kg (1,100-2,200lb) maximum take-off weight UAS was ordered in 2021.