Boeing has strengthened its offering of the CH-47 Chinook to the German armed forces, after signing a support agreement with Airbus Helicopters.
Announced on 25 March, the parties' memorandum of understanding comes as Berlin moves to revive its heavy transport helicopter programme, after cancelling a previous contest last year.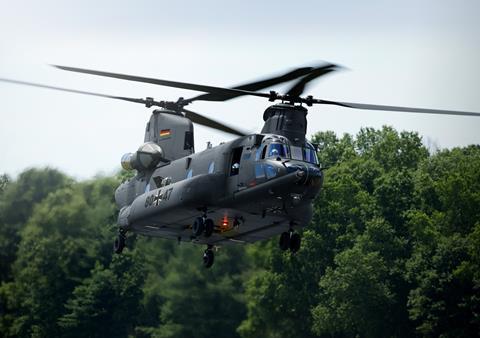 "The partnership will draw on the strengths and combined expertise of the world's leading aerospace companies to deliver advanced capability, readiness and innovative solutions as part of the German Chinook industry offering," the partners say.
"We are pleased that Airbus Helicopters has joined our team of strategic partners. Together we will provide the strongest offering to the Bundeswehr," says Mark Cherry, Boeing vice-president and general manager, Vertical Lift programmes.
"It is the only heavy-lift helicopter capable of providing Germany immediate interoperability with allied nations and is significantly more powerful, versatile and agile than any other aircraft in its class," Cherry adds.
Wolfgang Schoder, general manager of Airbus Helicopters in Germany, describes the Chinook as "the optimum solution for Germany, with an excellent price-performance ratio". The type will deliver "maximum operational availability to the Bundeswehr", he adds.
The US airframer's industry partners for the German campaign also include AERO-Bildung, CAE, ESG Elektroniksystem- und Logistik, Lufthansa Technik, Honeywell Aerospace and Rolls-Royce Deutschland.
"Boeing is committed to working with German industry on aircraft sustainment, including post-delivery modifications and installations, aircraft maintenance, supply chain services, training and logistical support, as well as the potential for sub-systems maintenance repair and overhaul work," the company says.
Sikorsky is also promoting its CH-53K King Stallion for the Bundeswehr's STH programme requirement, which seeks to replace the German air force's roughly 80 CH-53G/GA/GS rotorcraft.