Airbus Defence & Space test pilots have conducted a first trial of an A400M tactical transport flying autonomously at 500ft in instrument meteorological conditions (IMC), the company has revealed.
Disclosing the development during a media briefing on 9 December, Ioannis Papachristofilou, the company's head of sales, Europe and Canada for transport aircraft, said the milestone flight was conducted in the Toulouse area on 19 November. It included use of the four-engined type's autopilot and autothrottle, he adds.
Certification for the low-level IMC operating mode is expected to be secured during 2021, following further testing. The Atlas already has approval for flight at 500ft in visual meteorological conditions (VMC).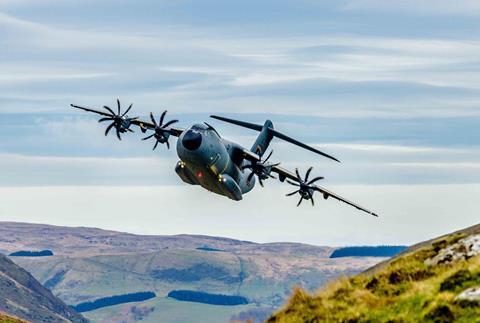 Papachristofilou expects Airbus to hit its target of delivering eight A400Ms this year, despite the effects of the coronavirus pandemic. The programme's 95th of a currently contracted 180 examples was handed over in early December, and he says Belgium's first will be transferred "within the next days".
Brussels is the last of Airbus's current eight customers to receive the type, with seven aircraft on order.
"It has been a very strong year for the A400M – we have seen not only that the maturity of the aircraft in terms of capabilities, but also its serviceability and availability, has been improving," Papachristofilou says. "This doesn't go unnoticed in the market.
"We have interest from a number of customers, and we are engaged in conversations," he said on 9 December, while declining to identify the nations involved. "A400M is very much on the agenda of our efforts worldwide in marketing and sales," he adds.
Meanwhile, Airbus is hoping to in 2021 close a long-planned deal to supply the Indian air force with 56 C295 medium transports. "There has been progress this year with the procedural steps in India, and we hope that we will be having the green light for the project very soon," Papachristofilou says.
The company also has offered the C295 for a Malaysian maritime patrol aircraft requirement, he confirms.