An Airbus Defence & Space offer to build a clean-sheet advanced jet trainer for Spain could benefit from the requirements from the manufacturer's other home nations, but may lack the economies of scale to compete on the global market.
Spain is seeking a replacement for its air force's 19-strong fleet of Northrop F-5s, with initial operating capability status targeted for 2027.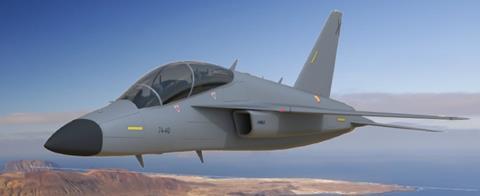 Airbus believes its offer – which it calls the Airbus Future Jet Trainer (AFJT) – would offer a significant boost to Spanish industry and support thousands of jobs.
In addition, building the aircraft would help to prepare suppliers for Madrid's contribution to the Future Combat Air System (FCAS) it is developing alongside France and Germany.
Indeed, those two nations provide the most likely follow-on customers for the development. In a presentation, the airframer specifically refers to the proposal as a "baseline with growth potential" which could become the "future trainer aircraft of FCAS/NGF" – or next-generation fighter.
France currently has a fleet of 57 Dassault/Dornier Alpha Jets its uses for training, alongside 17 new Pilatus PC-21 turboprops. Germany, on the other hand, has no jet trainer provision, instead sending fast jet students to the USA for instruction.
Even assuming that both countries had a defined requirement for new advanced jet trainers and placed double-digit orders for the Airbus jet, the AFJT would struggle to match the quantities and consequent economies of scale of other aircraft on the market.
Most obviously it would lag the Boeing T-7A Red Hawk being developed for the US Air Force. The service has a requirement for 351 examples, but with Saab a partner on the programme Sweden could also favour the T-7 for its future training need, further adding to the backlog.
But closer to home, Leonardo has sold its M-346 trainer to Israel (30), Italy (22), Poland (16) and Singapore (12), plus has received an 18-unit launch order for its smaller M-345 from Italy. Portuguese leasing specialist SkyTech has previously expressed an interest in operating a fleet of M-346 aircraft on behalf of the Portuguese air force and overseas customers.
Airbus declines to comment on the AFJT's sales prospects outside of Spain, but its presentation refers to the jet's "high growth capacity", which could see it take on light attack or aggressor roles or even a "future technologies demonstrator".
"This makes the AFJT a truly competitive training system for the future that could fulfil the requirements of customers globally," a source indicates. It would also "outpace solutions designed several years ago".
The single-engined AFJT would be around 13.6m (44.6ft long), with a 10m wingspan and would possess "high manoeuvrability and [a] power-to-weight ratio equivalent to top-of-the-line fighters", according to Airbus.
Spanish companies which could participate in the programme include CESA (landing gear and actuators), GMV (software and flight systems), Indra (flight simulation and systems), ITP Aero (engines), and Tecnobit (communications systems and pilot interface).
Airbus has not specified which engine would equip the AFJT, but the power requirement is understood to be in the 11,200-13,500lb (50-60kN)-thrust range: less than the 20,000lb-thrust Eurojet EJ200 for the Eurofighter or 16,500lb-thrust Safran M88 which powers the Dassault Rafale.
ITP has a 13% stake in Eurojet, compared with the 33% held by each of Rolls-Royce and MTU, and 21% by Avio Aero. However, it is unclear if the EJ200 would provide sufficient Spanish content, particularly as ITP's contribution is limited to external parts, notably exhaust components.
Boeing has selected the 11,000lb-thrust GE Aviation F404 for the T-7, while the M-346 uses a pair of Honeywell F124s – each rated at 6,300lb-thrust, and the M-345 a single 3,400lb-thrust Williams International FJ44.