The German air force's A400M tactical airlifter fleet will receive enhanced in-service support from later this decade, with work having started on a new facility at its Wunstorf air base.
A ground-breaking ceremony for the future A400M maintenance centre was held on 9 October, with officials including Airbus Defence & Space chief executive Michael Schoellhorn and air force chief Lieutenant General Ingo Gerhartz in attendance.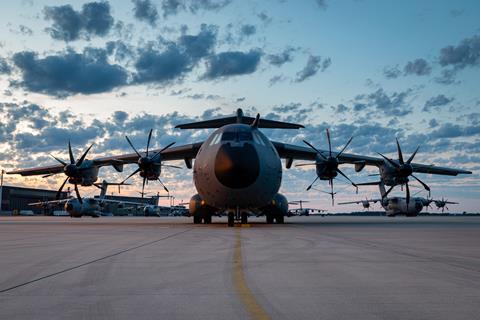 At the new maintenance centre, around 300 employees will service and maintain A400M aircraft from mid-2027.
"The A400M has been in reliable service for the German armed forces for over 10 years," Schoellhorn says. "To keep it that way, the new centre is an important step forward. Here, we will deepen the cooperation with the German armed forces and further improve the availability and operational capability of the A400M."
"The A400M is an indispensable part of the air force, whether as a transporter, tanker or in its role as MedEvac," Gerhartz says. "Evacuation missions from Kabul or Sudan would not have been feasible without the A400M," he adds, noting: "Worldwide operational readiness with our A400M fleet – that is only possible together with Airbus."
Construction work on the new facility is due to be completed by the end of 2026, with its operational use to commence in mid-2027. It is expected to eventually employ 300 people.
"The costs for the centre are in the low three-digit million range," Airbus says.
Berlin is the largest customer for the European-developed A400M, with Cirium fleets data showing that it currently has 41 in-service examples, from a total commitment for 53.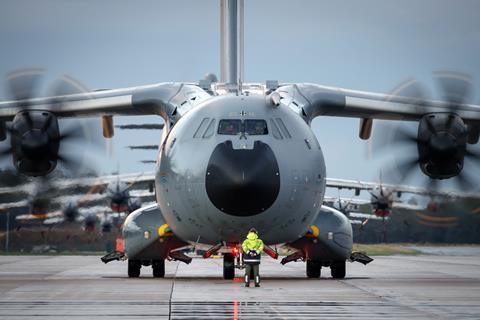 In July 2023, Germany's BAAINBw procurement and support body awarded Airbus a seven-and-a-half-year contract to provide continued maintenance support for its Atlas transports. This covers the provision of MRO activities at its Manching site near Munich, and at Hannover airport and Wunstorf.

Craig Hoyle joined Flight International in 2003, and has edited the now monthly title since 2015. He has reported on the UK, European and international military aviation sector for more than 25 years, and produces our annual World Air Forces directory.
View full Profile