Airbus Defence & Space expects Spain to sign a contract this year to acquire C295 twin-turboprops adapted for maritime patrol duties, after the nation's air force recently retired its last long-serving Lockheed P-3 Orion.
Almost 60 years of Spanish operations with the US-built type came to an end in mid-December 2022, when its final example was removed from use.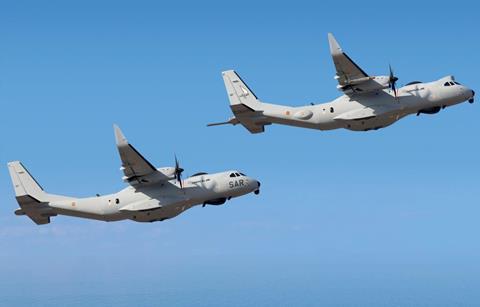 Madrid originally operated four P-3As, introduced from 1963, before in the late 1980s acquiring the same number of ex-Royal Norwegian Air Force airframes and one surplus US Navy example, three of which were modified to the M standard.
Speaking last month, Airbus head of military air systems Jean-Brice Dumont said the company anticipates receiving an order soon to produce C295 MPAs for the nation.
"We will enter into contract implementation in 2023," he says.
Airbus says the parties are "currently in the last stages of the C295 MPA configuration", and that it is "expecting aircraft configuration freeze and contract signature in Q1 2023".
The new platform will be equipped with the latest generation of Airbus Defence & Space's FITS mission system, "and state-of-the-art sensors and armament system to conduct anti-submarine warfare operations," it adds.
Additionally, Dumont says Airbus is involved in "ongoing discussions with the Spanish government" to also supply the nation with C295-based maritime surveillance aircraft, with these needed to replace aged CN235s currently used in the role.
Meanwhile, production work is advancing in support of a 56-aircraft C295 order from India, with a first delivery due before the end of this year. Airbus will complete 16 of the medium transports at its San Pablo final assembly site near Seville, with Indian partner Tata Advanced Systems to deliver the remainder.

Craig Hoyle joined Flight International in 2003, and has edited the now monthly title since 2015. He has reported on the UK, European and international military aviation sector for more than 25 years, and produces our annual World Air Forces directory.
View full Profile