Airbus will begin taking customer commitments for its Zephyr high-altitude platform station (HAPS) this year, with the production aircraft's entry into service being targeted by the end of 2024.
"It is near final design and close to being certified," says Airbus HAPS Connectivity Solutions chief executive Samer Halawi, who describes the company's work on the unmanned aircraft as a 20-year-plus journey.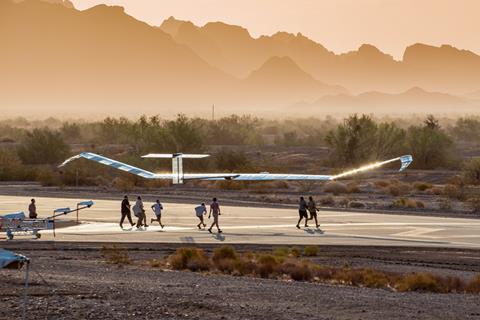 Airbus is offering to operate the high-altitude, long-endurance system in roles including mobile connectivity and persistent earth observation, along with meeting military requirements.
Halawi says the platform's current 8kg (17.6lb) mobile connectivity payload can provide service to 100,000 people on the ground. "If you need more, we can add a second aircraft," he adds.
"The mobile [network] operators don't want to fly planes – they want to deliver a service," he notes. "Our preference is to offer managed services, rather than just selling an aircraft."
Speaking last month, Halawi said the company plans to launch services with around 18 aircraft, "but probably within a 10-year period we will have close to 1,000 aircraft in the air".
The company envisions a constellation of Zephyr vehicles as supporting the provision of mobile services to the estimated 2.9 billion people currently with no or limited coverage, and also providing emergency 4G/5G coverage following natural disasters.
"We believe we are going to be saving and improving peoples' lives every day," says Halawi, who before joining Airbus was chief commercial officer at Intelsat.
Beyond providing connectivity services, the lightweight Zephyr can already operate carrying an Airbus-developed Opaz optical sensor payload. Weighing 5kg, this can deliver 18cm-resolution imagery.
Meanwhile, Halawi has provided further details about the 2022 loss of a Zephyr, some 64 days into a stratospheric test flight conducted from Yuma, Arizona. "The objective was to support a defence customer and test the air vehicle," he says, without disclosing the client.
An unusual weather pattern including high-altitude storm activity resulted in turbulence at 57,000ft, which the solar- and battery-powered aircraft – also previously referred to as a "pseudo satellite", due to its ability to operate above 60,000ft – struggled to remain above.
"It was working extra hard to maintain [altitude], and one component one of the engines failed," he reveals. The aircraft managed to continue flying for 1h using its remaining engine, but then was lost due to turbulence. The company has subsequently redesigned the engine component, he says.
Airbus says the more than two-month flight involving test aircraft Z8-2 saw it cover a distance of more than 140,000nm (259,000km).
Further flights are planned for 2023 to support the certification process for the production design, and also to expand on previous military trials. "We are going to fly over inhabited areas, over cities and from one place to another," Halawi says; Airbus has previously used temporary military licences to conduct test flights.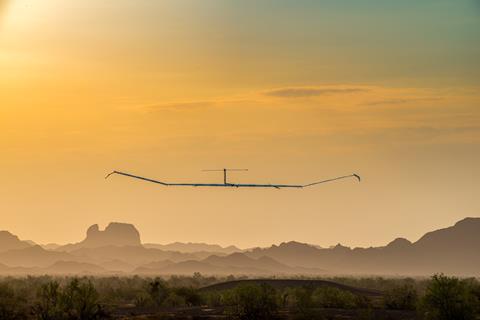 The company is close to completing the final design of its production aircraft, which "is about to get certified", he notes.
"Our plan is to go to 200- to 300-day flights in the coming year or two," he adds, noting: "every technology is getting smaller and lighter, and batteries are also improving."
Halawi also reveals that Airbus is working on the design of a larger Zephyr variant, which he expects to be available by 2026. This should have twice the payload capacity of the current design, he says.

Craig Hoyle joined Flight International in 2003, and has edited the now monthly title since 2015. He has reported on the UK, European and international military aviation sector for more than 25 years, and produces our annual World Air Forces directory.
View full Profile