Airbus Defence & Space and the Republic of Singapore Air Force (RSAF) have completed flight trials of an automatic refuelling system (A3R) update for the A330 multi-role tanker transport (MRTT), with certification expected to follow before the end of 2021.
Conducted early this year and also involving Singapore's Defence Science and Technology Agency, the test campaign included 88 fully automated dry and wet contacts made with another A330 MRTT and RSAF Boeing F-15SG and Lockheed Martin F-16 fighters. Almost 30t of fuel was transferred during the course of this work.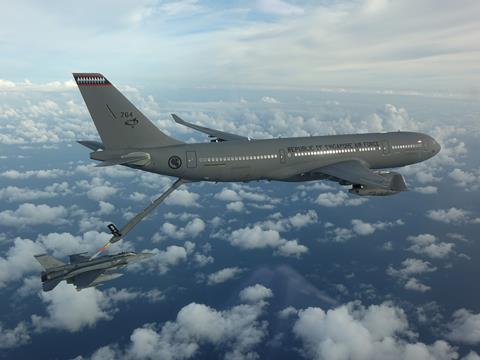 The parties' collaboration on the A3R enhancement was announced during the Singapore air show in February 2020, seeking development, certification and implementation of an operational capability.
The so-called smart tanker concept – which involves automatic control of the aircraft's refuelling boom – is intended to reduce air refuelling operator workload, improve safety and optimise the rate of fuel transfer.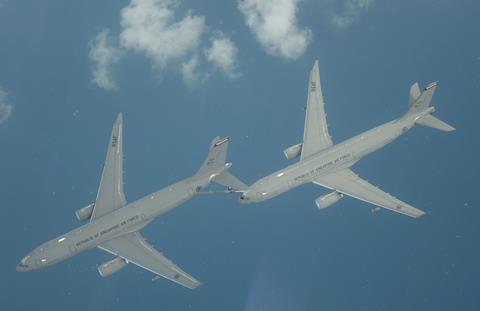 "We had the opportunity to test our system with different receiver types, ensuring the right fit of our systems, while gathering extensive data key to completing the A3R development," says Luis Miguel Hernandez, Airbus Smart MRTT manager. "The team were able to test the limits of the system successfully, verifying its robustness and ability to automatically track receivers with varying configurations."
Airbus adds that "all tests required for A3R data-gathering with the F-15SG, including operational flights to demonstrate the A3R performances in a mission-representative scenario, were also completed.
Airbus last year conducted supporting trials work involving automatic operations with an A330 MRTT and Portuguese air force F-16.
"Having gathered all critical data, the teams are now gearing up for the next phase, including readiness of the final A3R version and preparation for a very demanding roadmap that will lead to certification by the end of 2021," the company says.
Singapore's air force has a six-strong fleet of boom-equipped A330 tankers.